2nd Team Captains Meeting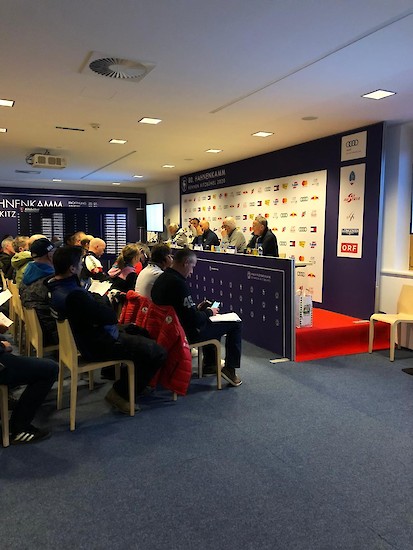 22.01.2020
After a successful first Downhill training run, the coaches and officials came together this evening at the second Team Captains Meeting of the 80th Hahnenkamm Races. Chief of Race Mario Weinhandl was very pleased with the entire training and thanked all those involved for their great cooperation.
Today's Longines Future Hahnenkamm Champions Race was also a resounding success, especially for the young Austrian teams who came first (Team Tirol), second (Team Austria 2), and third (Team Austria 1). Good news was also received about the young racer from the Czech Republic, Barbora Peroutková, who had taken a fall.
"Luckily, it's just a muscular injury, and not a fracture", says Weinhandl.
Michael Huber, President of the Kitzbühel Ski Club, agrees that the first Downhill training was a success and looks forward to the next few days. Huber also remains confident with regards to the weather:
"Even though there might be a few high clouds, the weather should remain stable, causing no reason for the races to be delayed."
Chief Race Director, Markus Waldner, also found words of praise for the training and course conditions.
"In order to take on the Streif at the 80th Hahnenkamm Races, the athletes will have to control their speed and adjust their jumps"
, explains Waldner.
The start numbers for the final Streif Downhill training (tomorrow at 11:30) were drawn at the end of the meeting: Swiss racer, Mario Caviezel, will be the first to start, followed by fellow countryman Beat Feuz. Max Franz (AUT) has bib number 4, and Kjetil Jansrud will be hot on his heels with bib number 5. The German Downhill specialists Ferstl and Dreßen will form a double act, starting as numbers 12 and 13.
Chief of Race, Mario Weinhandl, called the meeting to a close, wishing the athletes and coaches a successful and, above all, safe Downhill training.
Photo © K.S.C.
---
Related Posts
---