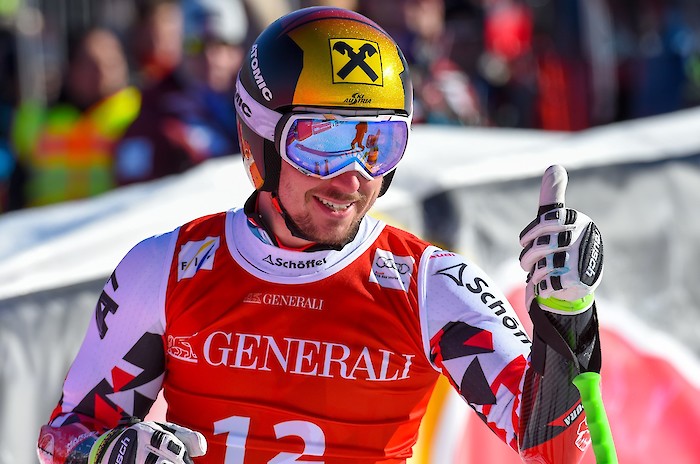 05.09.2019
Between 2008 and 2019, Hirscher competed no less than 18 times in the Hahnenkamm Races, plus two starts at the International Hahnenkamm Juniors. The 30-year-old can look back on an incredible skiing career. He will be sorely missed on the Alpine skiing scene.
He already made his acquaintance with the Ganslernhang Slope back in 2003 and 2004, when he represented Team Austria at the Junior Race in Kitzbühel at the tender age of 14 and 15. Even then, his talent was obvious. Only four years later, in 2008, he competed in the World Cup Slalom at Ganslern with a start number of 38, but was eliminated after the first run. Only a year later, he narrowly missed a podium position at the foot of the Hahnenkamm and finished fourth. He secured his first victory on the Ganslern Slope on 27th January 2013. He ranked second after the first run behind Italian Giuliano Razzoli, but triumphed in customary style in the second heat.
He was overjoyed to win again on the Ganslern in 2017. During the interim period, Frenchman Alexis Pinturault (2014, 2015) and Norwegian Henrik Kristoffersen (2016) won the big Slalom trophy. Hirscher was keen to win again at the Ganslern in 2018 and 2019, but was denied the chance. Henrick Kristoffersen delivered two solid runs in 2018, and despite achieving a best time in second place, Hirscher lost to the Norwegian by 97 hundredths of a second. He delivered an astonishing second run in 2019, but it was not quite enough. Ranking ninth after the first run, he was just too far behind to catch Frenchman, Clement Noel, who clinched victory by a mere 29 hundredths of a second.
Hirscher celebrated 67 grandiose victories in the World Cup, is two-time Olympic champion, seven-time World champion, four-time runner-up World champion, not to mention bearer of an Olympic silver medal. He also won the World Cup crystal globe eight times in the overall rankings, as well as an incredible 12 times in the World Cup disciplines. He stood on the World Cup winner's podium no less than 140 times, an act that will be hard to follow.
For us, the KSC, organizers of the Hahnenkamm races, it was an honour to be part of Marcel Hirscher's career.  Although he has finished his ski-racing career, we are delighted that he will stay true to the sport.
---
Related Posts
---