Our live radio service from the Streif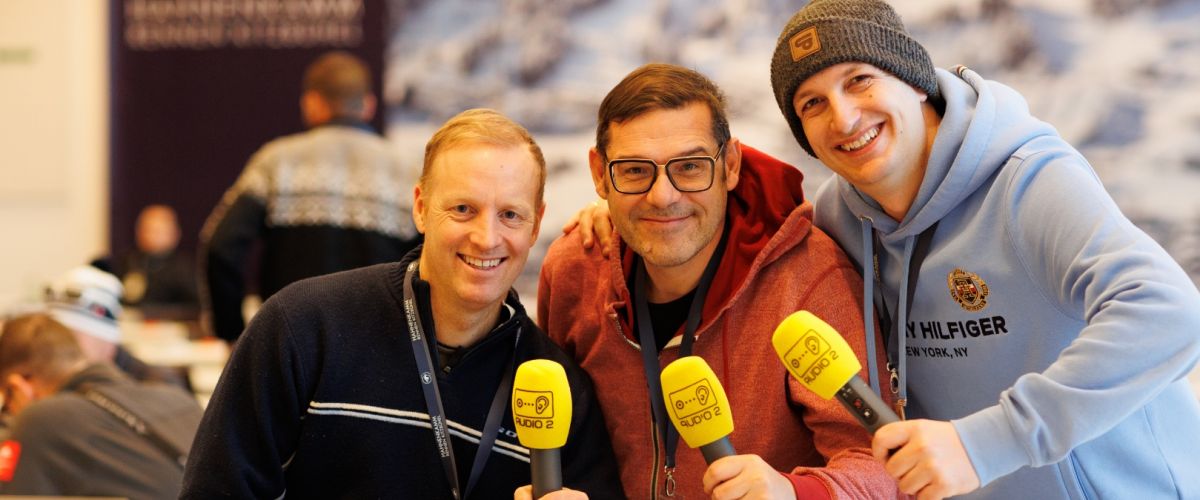 19.01.2023
You can also listen to the races live. Commentators, Gregor Waltl and Sebastian Kaufmann provide background information on the Streif and Kitzbühel in our live radio service. Chris Cummins ensures that all races can also be heard in English.
Since 2011 and for the twelfth year in succession, Kitzbühel Ski Club has offered live audio commentary of the ski races and Downhill training. This allows blind and visually impaired listeners to follow all the race happenings, as well as those, of course, who are on the road, or don't have access to a TV. With AUDIO2 team Gregor Waltl and Sebastian Kaufmann commentating on the live stream, the thrilling excitement of the races is not only audible, but tangible.
Working in cooperation with ORF, the live audio commentary will be broadcast on ORFeins second soundtrack, via live stream on the internet, as well as on local radio: tune into 89.3 MHz.
The Streif in English
Chris Cummins is responsible for commentating on the races in English. Chris has been entertaining our international listeners with his commentating skills for the for the last eight years. One of his most memorable moments occurred on 22nd January 2022,when his compatriot Dave Ryding won the Slalom on the Ganslernhang. It was the first World Cup win by a British athlete since the World Cup was established. The live stream can be received worldwide free of charge. Follow this link to the live streams.
Photo © Audio 2
---
Related Posts
---