90th birthday of Anderl Molterer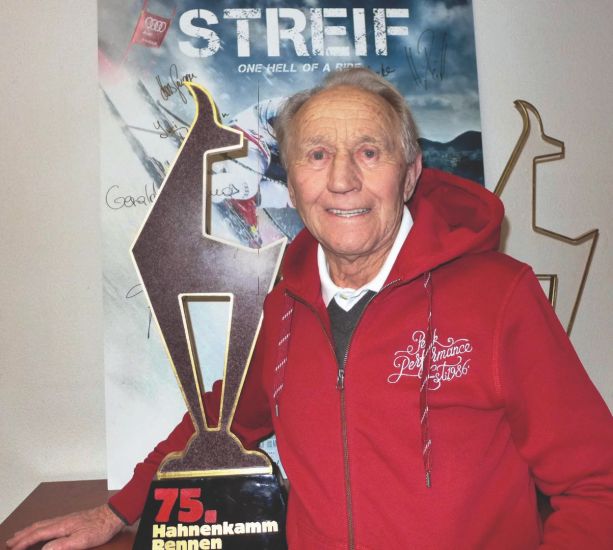 08.10.2021
On October 8th in Nashville / Tennessee, a member of the ski wonder team will be incredibly 90 years old - Anderl Molterer.
The "White Lightning from Kitz" remains unforgettable for all ski fans with his unbelievable style. On the "Streif" he was on the top floor 9 times, more often than anyone else.
In 1950 he made the leap into the Austrian national ski team, his first victory followed in 1952 in the combination of Zermatt and was the prelude to countless successes with more than 50 victories in FIS races.
"The most successful trophy hunter of all time ..." (as written in "Salzburger Nachrichten") was never World champion or Olympic champion (1 silver and 2 bronze medals), but the list of his successes is impressive (see below).
After his active career, he became a 3-time professional World champion. He founded "Red Lodge International Summer Ski Racing Camp" with friends and opened "Molterer Sports" in Aspen, Colorado, a business he ran for 17 years.
He has received numerous awards and honors, including "Hahnenkamm Champion of the Century" in 2000 and two years later he was accepted into the "Colorado Ski and Snowboard Hall of Fame". He has been awarded the "Arlberg Kandahar Decoration with Diamond", the "Tyrolean Sports Decoration" and the "Silver Decoration for Services to the Republic of Austria".
On his next visit to Tyrol, he will receive the "Kitzbüheler Gams in Gold" award from his home town of Kitzbühel.
HAPPY BIRTHDAY ANDERL !!! We are very proud of you and look forward to seeing you again!
---
Related Posts
---