Arrival of the Austrian Army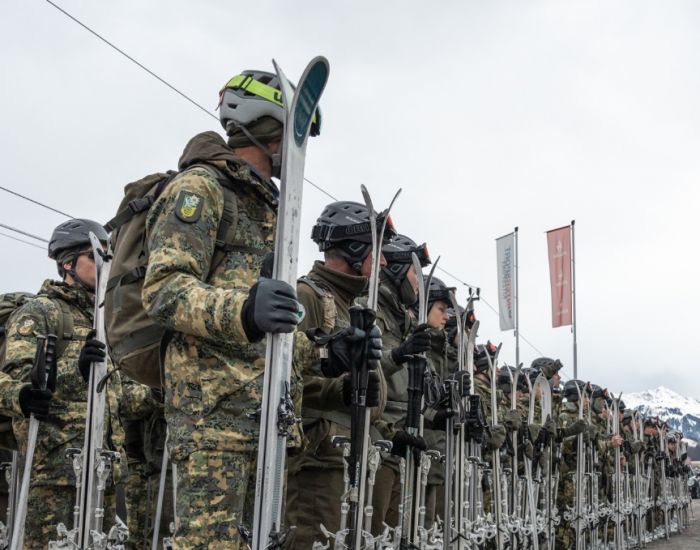 16.01.2023
101 soldiers from Vorarlberg, Salzburg and Styria are providing assistance at the Hahnenkamm Races with their work on the slopes. It is a varied and popular mission for the young men. Prerequisite for all: being proficient on skis and familiar with using crampons.
Surprise was written all over the faces of several skiers on Monday afternoon at the Hahnenkamm cable car valley station, when 101 soldiers suddenly gathered at 15.30 hrs to commence their support mission at the Hahnenkamm Races.  During Race Week, these recruits help the Organisers, among other things, with preparation of the Streif and Ganslern slopes, as well as clearing the racecourses after any snowfall.  OC Chief, Michael Huber, thanked the men for their help on the mountain and added "I hope that this week will be a special experience for you and leave a lasting impression. Let's all hope for some good weather."
Herbert Hauser echoed his heartfelt thanks: "Be supportive of each other and look after yourselves and we will have a great week. Conditions on the Streif are still quite "grippy" at the moment, but it will become increasingly slippery over the course of the week," the Slope Manager pointed out.  Operations Chief for the support mission on the Hahnenkamm is Lieutenant Tobias Ofer, Company Commander of the 1st Jaeger Company of Jaeger Battalion 23 in Bludesch (Vorarlberg). The 101 soldiers include a platoon from Bludesch Jaeger Battalion, a troop from Supply Regiment 1 from Graz and a group from Pioneer Battalion 2 from Salzburg. All the men are good skiers, familiar with using crampons and have avalanche training. 
And how popular is this mission among the soldiers?  "Everyone from my unit is looking forward to this support mission.  On the one hand, because it is very varied, and on the other because they get to see big ski stars they would only otherwise see on TV," says Operations Chief, Tobias Ofer.
Photo © K.S.C./alpinguin
---
Related Posts
---