Visit from Andorra to the Ganslern Slope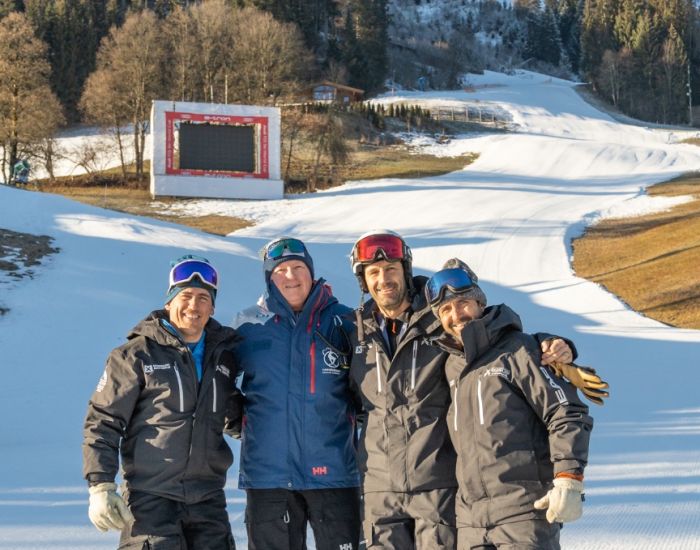 16.01.2023
Stefan Lindner and his entire team have been working at full speed on the Ganslern slalom slope since Monday. At first the slope was "perforated" with the injection spray bar, so cold temperatures could take effect in depths of up to 50 cm below the surface.
The sun was smiling over the finish area on the Ganslern when the 25-strong team met for a briefing on Monday morning. Piste manager Stefan Lindner from Oberndorf was pleased to see a full, happy and motivated team and commented: "We are entering the Race Week with great confidence and looking forward to an exciting Hahnenkamm weekend with a super finale on the Ganslern slope."
The preparations - which began before Christmas - continued directly on the start slope, where the precisely timed procedure was reminiscent of football training. A six-man team hoisted a 50-metre-wide injection spray bar down the slope inch by inch, interspersed every three seconds by the sound of a whistle - the command to move the spray bar another 20 centimetres. By the end of the day, the entire Ganslern slope had been perforated with thousands of fine holes. Stefan Lindner explains the process: "It's not so much about watering the racecourse, but this time much more about the perforations (note: 20 to 30 centimetres deep), through which the cold is drawn deeper into the snow layer before the forecasted new snow arrives. As a consequence, we create a compact and homogeneous base layer from which any fresh snow will be easy to clear."

Despite the mild temperatures at Christmas and the beginning of January, Stefan Lindner has been very satisfied with the development of the Ganslern since the first preparations were completed in mid-December: "With the help of the local cableway operator and commitment of the snow cat pilots, our core team has managed to create a really good surface. There are 40 to 50 centimeters of machine-made snow on the slope." The Ganslern slope is inherently difficult to master, but this year the challenge might be even bigger. The many transitions have seldom been more noticeable than this year.
The organizers of the World Cup finals from March 13th to 19th in Soldeu and El Tarter in Andorra were keen to watch Stefan Lindner's slalom team at work. The trio around Santi Lopez will be guests at the Hahnenkamm Races for several days and would like to expand their knowledge in terms of slope preparation and race organisation: "We are going to visit several World Cup stations to look at different slope preparation techniques. Here in Kitzbühel we can learn from the best," Santi Lopez explains.
Photo © K.S.C./alpinguin
---
Related Posts
---