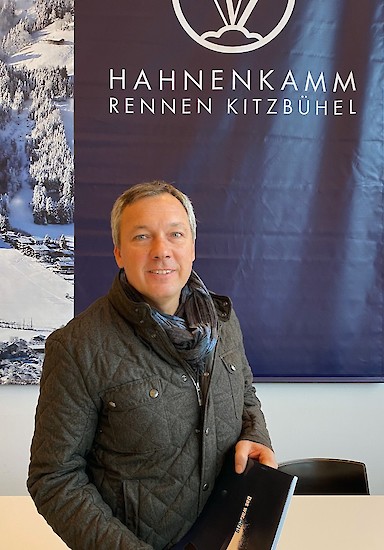 20.01.2020
Fritz Strobl is a two-time Streif winner, course record holder, 2002 Olympic champion and team world champion of 2007. It's still a very special occasion for him to come to Kitzbühel and be a part of the Hahnenkamm Races. We had the pleasure to sit down and have a chat about his record, his top picks for this year and more.
Interviewer: Let's start with the classic Kitzbühel question: As a former athlete, how does it feel to return to Kitzbühel?
Fritz: Just like every year, anticipation for this race and the entire event is huge, and I'm really grateful to be able to come back every year to contribute in various ways. What I can say with absolute certainty is that, as a former athlete, I'm happy that I don't have to race down the Streif at top speed anymore. The athletes' achievements are just unbelievable, so it does make me a little proud knowing that, in the good old days, I was doing just the same. It still feels like it was just yesterday – the tension and the adrenaline, I remember it all vividly and it's just an indescribable feeling. The great atmosphere here in Kitzbühel simply brings it all back.
Interviewer: What will you be up to at this year's Hahnenkamm Races?
Fritz: I'm very honoured to have been invited to the TV-show "Sport und Talk" by ServusTV, which is being recorded in Kitzbühel, and over the next few days I'll also be in action on and around the Streif on behalf of my outfitter, Salomon.
Interviewer: You're still the Streif course record holder. Do you think that this record will ever be broken?
Fritz: Course record or not, fact is that there's a lot of luck at play when it comes to winning the Downhill in general. To then achieve the fastest run of all time? Everything needs to fall perfectly into place. I do wonder if the record will be broken, but I'll admit it's just an awesome feeling to still see my name at the very top of the record board.
Interviewer: Who are your top picks in the speed category of this year's Hahnenkamm Races?
Fritz: This winter has proven that we're not dealing with a serial winner. Instead, there are several athletes to keep an eye on, and I'd have to say Dominik Paris is the first that comes to mind: He won twice in Bormio this season and obviously knows how to win in Kitzbühel, too. You might say it's nearly impossible to win in Wengen and Kitzbühel one after the other, but Beat Feuz is still a force to be reckoned with. I'd also wager that Alexander Aamodt Kilde's chances look good for this year's races. From an Austrian point of view, my guess would be that Matthias Mayer is the hottest tip.
Interviewer: Sports aside for now: You're the president of the "Children's Constabulary" – could you explain this position for us?
Fritz: Well, I was a policeman for many years, and even though I retired from that, I'm still president of the "Children's Constabulary". It is a project to encourage and instil confidence towards the police in children. It's important that kids and youngsters grow up with a positive image of the police.
Interviewer: To round it all off, here's the most important question of all: Will we ever be graced with a sequel to your song "Mozart der Mausefalle" ("Mozart of the Mausefalle")?
Fritz: I actually get asked that question quite a lot and it seems to me that anything could happen. I don't currently plan to release another song, but if the situation presents itself and everything falls into place then it could well happen. Only time will tell.
Interviewer: Thanks for the conversation and all the best!
Photo © K.S.C.
---
Related Posts
---