"It has to be easy and fast"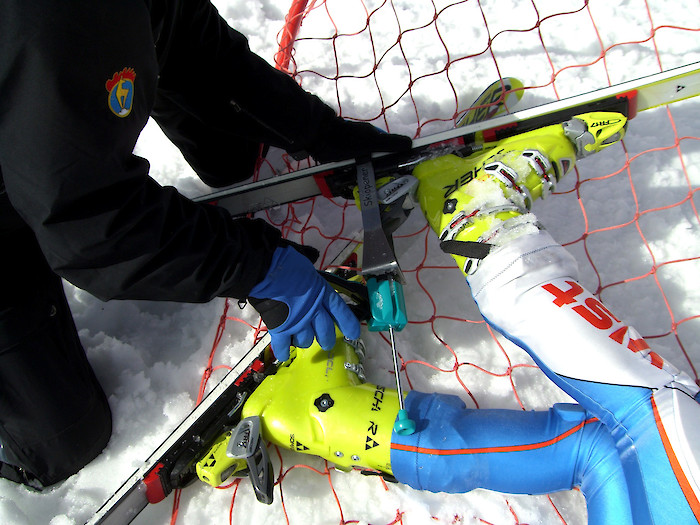 23.02.2016
A much-discussed subject after accidents: when bindings will not open after a skier is involved in an accident. Reason enough for Simon Lindner from the HKR Piste Team to come up with a method for removing skis from an injured person more quickly and easily. An idea that resulted in the "Wiesel".
After finding inspiration for a binding opener and specialised tool at his hometown in Oberndorf, Tyrol, Lindner set to work. The Wörgartner Company put his plans into action. The "Wiesel" has now been in use for ten years and is much appreciated by mountain rescue services, as ski bindings are set extremely tightly for ski racers and no one has a chance of opening them easily by hand. " At that time I was motivated by former FIS Chief Race Director, Günther Hujara", says Simon Lindner. "Nowadays, the 'Wiesel' is in use at every ski speed discipline worldwide". The last orders came in from South Korea, where the binding opener is being used at the test races for the 2018 Winter Olympic Games. "We used the Wiesel for the first time ten years ago and I am proud that a HKR Organizing Committee member has developed this innovative device, thereby contributing to a more straightforward rescue of athletes involved in an accident", says Organizing Committee Chief, Michael Huber. "In the event of a rescue, things have to be easy and fast. That is why I called the opener a "Wiesel" (weasel in English). A weasel is also small and fast", explains the inventor. On Friday, 19
th
February, there was a 10 year anniversary meeting in Oberndorf in Tyrol, at which you could see the entire development of this tool, from the first prototype to the current model and take part in pleasant discussions. The "Wiesel" is not only suitable for use at ski races, but also for mountain rescue teams in general.
---