Peter Eder: The Race Secretary and the Winners' Schnapps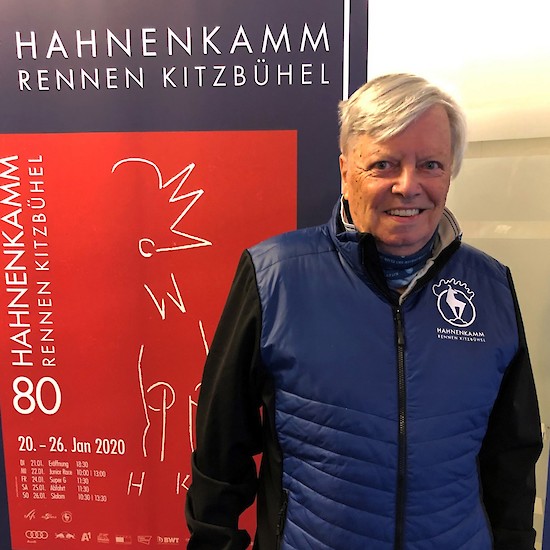 23.01.2020
The winner's "Gams" trophy, the "Weisswurst Party, the fabulous atmosphere of the award ceremony at the "Zielhaus": There are certain things that are an indispensable part of the Hahnenkamm Races. And then there is Peter Eder. The 71-year-old has been Race Secretary at the ski event of the year for an incredible 36 years. A Team Captains' Meeting without Eder's traditional roll call of participating nations - inconceivable.
But from now on, this will be reality: The Kitzbühel native ended his official activities today and handed office over to his successor, Alexander Katholnig. "Of course I'm feeling sentimental. I have got on well with all the racers ever since 1985. It does make you feel a little wistful", says Eder.
He held the position of Chief of Race for 6 years. When Toni Sailer returned to Kitzbühel Ski Club and assumed this office, Eder became Race Secretary. From then on, he took care of team accreditations, nominations and start number draws. Documenting the races and checking the start and result lists? All tasks completed by the likeable Race Secretary. An enriching experience for Eder: "It was great fun. It's routine work. But if you do it right, you won't get any unexpected surprises."
And yet a few years ago, the Kitzbühel man had an idea that may come as a surprise to many: the traditional "winners' schnapps": "After the press conference, I take the Hahnenkamm winner to the race office so he can sign posters and have a schnapps with us", explains Eder. Sometimes the other athletes from the podium get one as well. The skiers like it: "The well-known Swiss newspaper, Blick, even wrote an article about Daniel Yule (Slalom third in 2018) because he never otherwise drank alcohol the whole year round." Link to the article (in German)
It is the last drink for Eder this year. The man from Kitzbühel has clear ideas as to with whom this should happen: "I would like to have a schnapps with the Norwegians: Kjetil Jansrud and Aleksander Aamodt Kilde are great lads. But I also wouldn't mind if it was Matthias Mayer, Vincent Kriechmayr or Thomas Dreßen."
Eder wasted no time today in handing office over to his son-in-law, Katholnig. "I might be stepping down, but I won't stop entirely, I just can't. I am too involved", says the 71-year-old. Incidentally, Eder's professional highlight was far removed from his home in Kitzbühel: "In 2014, I was Race Secretary at the Olympic Games in Sotchi, Russia. That was one of my greatest highlights", says the functionary with an affectionate look.
Peter Eder, however, is primarily associated with the Hahnenkamm Races, where he has worked with passion and great commitment for the last 35 years. "Austria? Canada? France? Italy? Norway? Russia? Slovenia? Switzerland? Sweden? USA?" – Eder performed the roll call of participating nations one last time today. He then resigned from office. "It's the 80th Hahnenkamm Races this year. And Peter was involved in around half of them, for which I thank you!", were KSC President, Michael Huber's closing words. A sentiment with which we wholeheartedly agree: Thank you for your valuable contribution as Race Secretary, Peter!
Photo © K.S.C.
---
Related Posts
---