Portrait of Dressen, the Downhill winner: the new Hero of the Streif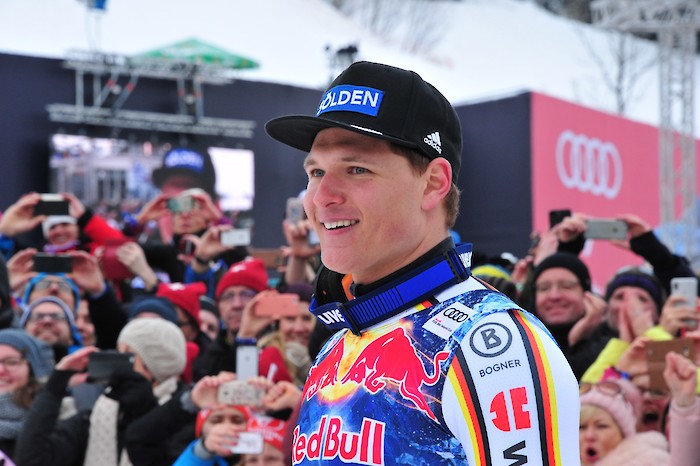 20.01.2018
Unbelievable: German skier Thomas Dressen won today's Downhill Race in Kitzbühel. But let's tell his story in the right order: one of the most crucial moments of the Downhill classic did not take place during the race – it was, in fact, the bib number pick on Friday, when Hannes Reichelt had to choose between the numbers 1, 17 and 19. The Salzburg-born athlete selected start number one, leaving two remaining bibs for Thomas Dressen to choose from. The German athlete went for number 19 – and what a fortuitous choice it was: Dressen caught perfect, sunny conditions and delivered a sensational run. His reward: the 24-year-old recorded the fastest time, thereby winning the 78th Hahnenkamm Downhill Race, ahead of Beat Feuz (Switzerland) and Hannes Reichelt (Austria). A sensational victory!
"I could hardly believe it as I crossed the finish line, I thought they were kidding me"
...said an overjoyed Dressen after his triumph: "For me, it was a real surprise".
His victory, however, is actually not all that surprising: the ski racer from SC Mittenwald has already enjoyed two podium finishes this year: he skied into third place at the downhill in Beaver Creek. With two fifth places in the Alpine Combined in Bormio and recently in Wengen, the athlete from Garmisch Partenkirchen has already demonstrated his excellent form. The crowning glory has now followed in Kitzbühel: it is the first World Cup victory for Thomas Dressen - and he could not have chosen a better place for it as in Kitzbühel. His success is also historic for his homeland: the last German to win on the Streif was Sepp Ferstl, 39 years ago. He won the Kitzbühel Downhill in 1978 and 1979.
"Incredible. I have never been so excited. This is a memorable day for German ski sport"
...sais his injured team-mate, Felix Neureuther.
Even though Dreßen competes for the German Ski Association – he actually learned to ski, however, in Austria: the 24-year-old attended Neustift Ski College, namely, in the Stubaital Valley.  Mona Marko, a colleague from our Hahnenkamm Press Team, got to know him there. She only has words of praise for the Kitzbühel winner: "Thomas thoroughly deserves this victory. He has a great personality!" Dreßen entered the World Cup arena almost two years ago – at the tender age of 21. The ski racer dedicated his win to his late father, Dirk, who died too soon to enjoy his son's epic win. By having the number 44 emblazoned on his helmet – which represent a double D – he always carried his dad's initials with him. An impressive young man, this Thomas Dressen, who is now the Hero of the Streif.
Photo © K.S.C.
---