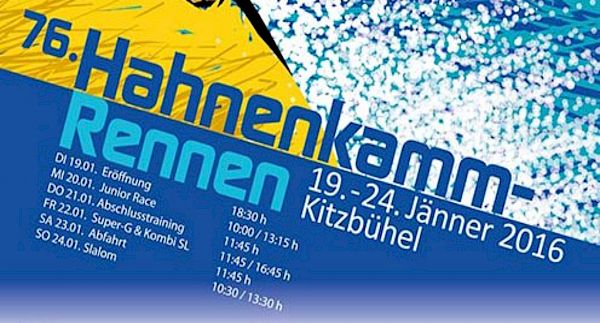 01.09.2015
Poster for the 76th Hahnenkamm Races.
Artists have created the poster for the Hahnenkamm Races since 1990 and a competition is held annually for its design. The posters have become a highly collectable and sought-after item. In addition to the many fans keen to acquire a copy, diverse museums collect and archive copies of the poster.
The new design – created by artist Hans Kalian – for the 76th Hahnenkamm Races is now available. Sales proceeds of the poster are used to support Kitzbühel's young ski talent, ensuring even more success in the future. We would like to take this opportunity to extend our thanks to all our sponsors and patrons!
More information on Kitzbühel Ski Club
Details on K.S.C. youth development
Orders / Information
via Mail
(Kitzbüheler Ski Club - Telefon +43 5356 62301-18 – Ms Claudia Mössl)
Sales outlets
Kitzbüheler Ski Club (K.S.C.)
, Hinterstadt 4, 6370 Kitzbühel (Mon-Fr: 08:00-12:00 h und 14:00-17:00 h)
Kitzbühel Tourist Board
, Hinterstadt 18, 6370 Kitzbühel (Mon-Fr: 08:30-18:00 h / Sa: 09:00-18:00 h / So: 10:00-12:00 h & 16:00-18:00 h)
Sparkasse Bank, Kitzbühel
, Vorderstadt 14, 6370 Kitzbühel (Mon-Fr: 08:00-12:30 h und 14:30-16:30 h)
Bank für Tirol und Vorarlberg
, Vorderstadt 9, 6370 Kitzbühel (Mon-Fr: 08:00-12:00 h)
Poster
Size: A1 (84.10x59.4cm) Paper: 250gr matt picture quality paper Price: 15 Euros Direct pick-up service available Shipping costs: extra