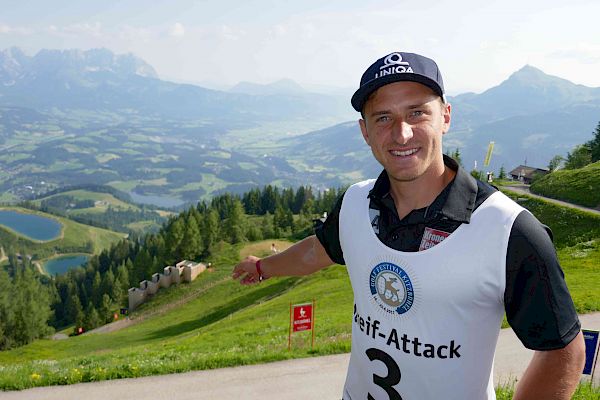 Im Winter geben die besten Skirennläufer alles auf der Streif. Heute galt es die Streif mit dem Golfschläger zu bezwingen. 12 Löcher waren zu meistern, vom Starthaus hinunter zur Mausefalle, zum Steilhang, zur Seidlalm und von dort über den Hausberg zum Zielschuss und letztlich zum Ziel, auf dem Golfplatz Rasmushof. An den Seidlalm-Seen gab es eine Sonderwertung "Nearest to the Pin" und beim Zielschuss den "Longest Drive auf der Streif". Den Parcours hat der ehemalige HKR-Sicherheitschef Franz Pfurtscheller ausgeflaggt.
Mit dabei war auch heuer ein "Hahnenkamm-Flight". Gleich mit der Startnummer "1" gingen Hahnenkamm OK-Chef Michael Huber, Ex-Rennleiter Peter Obernauer, K.S.C. Sportwart Josef Eberl und der stellvertretende Streif-Pistenchef Hois Werlberger an den Start. Peter Fill, Matthias Mayer, Christian Waldner, Frederic Bertold, Hanni Wenzel-Weirather, Andreas Hagara und Mario Basler waren ebenso bei der Streif-Attack dabei. Insgesamt gingen 19 Flights die Streif entlang. Die Titelverteidiger von 2012, 2015 und 2016 – das "Hahnenkamm / KSC-Team" – mussten sich 2017 geschlagen geben.
Sieger
"Lederhosen-Team"
Rang
"Hahnenkamm / KSC-Team" mit Michael Huber, Josef Eberl, Peter Obernauer und Hois Werlberger
Rang
"Team HEAD" mit Matthias Mayer, Frederic Berthold,  Christian Waldner, Hias Leitner
Peter Fill, Hanni Weirather-Wenzel, Andreas Hagara und Andreas Reiter wurden Achte.
Voriger Beitrag
Nächster Beitrag