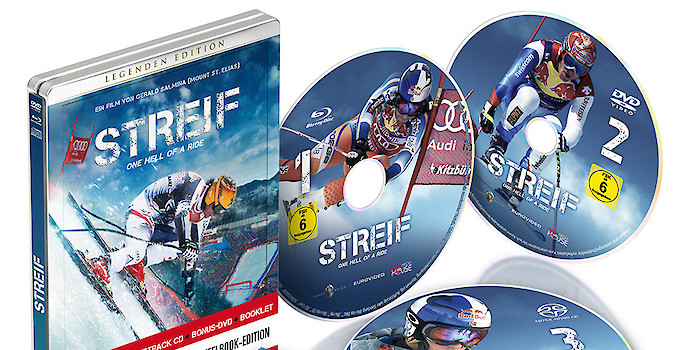 16.10.2015
STREIF-FILM – finally available on DVD and Blu-Ray from 12th November
Many Hahnenkamm fans have been waiting impatiently for the new DVD release of the Streif film.
From 12th November 2015, DVD, Blu-Ray (both with booklet) and the STREIF LEGENDS EDITION (excl. 4-disc Steelbook) will be available in all good specialist stores. Kitzbühel Ski Club (K.S.C.) is happy to accept orders and will organise shipping: please place orders direct via email to office@hahnenkamm.com. DVD, Blu-Ray and Steelbook are available from the K.S.C. offices from 12th November.
The perfect gift– especially combined with the Hahnenkamm book, "Chronicle of a Myth"!
DVD with booklet - 15 Euro Blu-Ray - with booklet - 20 Euro shipping costs according to standard postal rates direct collection from K.S.C. offices possible (MON-FRI 08-12 / 14-17 hrs)
More information on the DVD, Blu-Ray and Steelbook
DVD - with booklet DVD language / tone: German DD 5.1, Audio version Subtitles: can be hidden, subtitles for the hearing impaired DVD picture format: 2,35:1 (16:9 Letterbox) DVD running time: ca. 115 minutes Bonus material: main film with exclusive interviews (director Gerald Salmina and athletes such as Hannes Reichelt, Bode Miller and many others), film trailer and music video of the movie title track, "Seize the Day" Rated: from 6 years Format: DVD Release: 12.11.2015 K.S.C. price: 15 Euro Shipping costs according to standard postal rates Blu-Ray - with booklet Language / sound format BD: BD DTS-HD Master Audio 5.1, audio version Subtitles: can be hidden, subtitles for the hearing impaired BD picture format: 2,35:1, HD 1080/24 p (16:9) BD running time: ca. 120 minutes Bonus material: main film with exclusive interviews (director Gerald Salmina and athletes such as Hannes Reichelt, Bode Miller and many others), film trailer and music video of the movie title track, "Seize the Day" Rated: from 6 years Format: Blu-ray Release: 12.11.2015 K.S.C. price: 20 Euro Shipping costs according to standard postal rates
---