The Hahnenkamm Races and its forerunners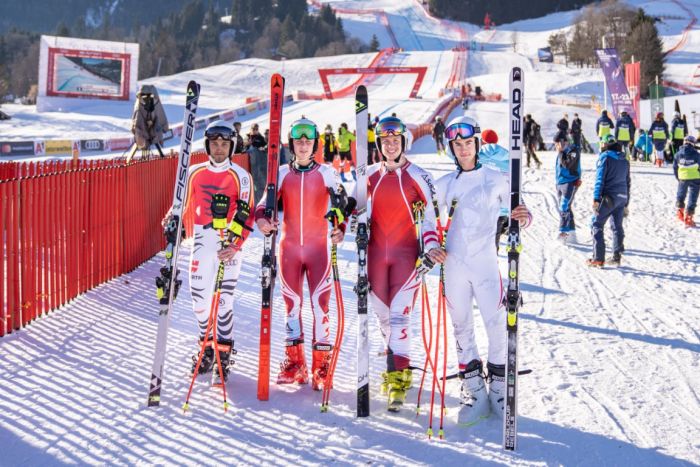 20.01.2022
The Streif has always had famous forerunners.  Before Marcel Hirscher, Hubertus Hohenlohe, FIS President Johan Eliasch, ÖSV Head of Communications Stefan Illek or - after ending their active careers - Toni Sailer and Daron Rahlves have all taken on the role of "test pilots". We'd like to introduce you to five lesser-known forerunners alongside Marcel Hirscher. 
It was a video that generated astonished looks and many more clicks for days in Austria and beyond:  two young skiers plunged daringly down the Streif in spring 2021 - wearing only shorts. It was quite obvious from their technique that these were not amateur athletes having fun - they were German-born Felix Klingler (22) and Nicolas Hofer (19) from Oberndorf.  The intrepid duo are not only members of the daring "Camofloschn" ski troupe, but also racers at FIS level and will soon be at the Olympic Games in Beijing, where they will also compete as forerunners. Both Klingler and Hofer have already skied the Streif as "test pilots" in recent years. What is the goal for this Hahnenkamm Weekend?  "As a forerunner, the most important goal is of course to cross the finish line in one piece, but at the same time you want to cut a fine figure on the hill," says Nicolas Hofer. "The time is inconsequential, but you still want to be the fastest amongst the forerunners."
In addition to Nicolas Hofer and Felix Klingler, Maximilian Mayrhofer, Simon Bruch-Wagner and Toni Aufschnaiter will also start upfront in the Downhill: "We treat the first two bends down to the Mausefalle with healthy respect, because there is simply nothing like that in the FIS downhills," says Maximilian Mayrhofer after the first training run.  "But on the whole, it's just awesome to ski," says the 21-year-old from Sierning in Upper Austria.  He is taking the Streifon for the first time this year and hopes to soon be competing in the Eurocup. Simon Bruch-Wagner (20) was less satisfied after the first training run: "I misjudged my equipment - my edges deteriorated way too quickly," the Bavarian, who lives in Kitzbühel, was annoyed.
So did the video of Nicolas Hofer and Felix Klingler skiing down the Streif in shorts achieve more fame or trouble?  "More fame," says Nicolas.  "But some mothers left me some rather angry comments on social media."  Incidentally, the two videos on YouTube have been viewed around 120,000 times so far.
Photo © K.S.C. / alpinguin & K.S.C. / Jürgen Klecha
---
Related Posts
---