The World Cup Returns to Ganslern
10.02.2023
Around one month after the Hahnenkamm Races, the World Cup returns to Kitzbühel. 80 Para Alpine Ski athletes will compete in two slaloms on the Ganslern slope on 27th and 28th February.
Hot on the heels of the memorable Hahnenkamm Races in January that featured excellent conditions, splendid weather and some incredible performances, the next highlight is already in store for athletes and fans: the FIS Para Alpine World Championships will make a guest appearance on the Ganslern Slope in Kitzbühel at the end of February. Kitzbühel has already established something of a tradition in para-sport, after hosting the Open Tyrolean Championships in 2005 and the Austrian National Championships in 2010. This time the athletes will compete in two World Cup Slaloms on the Ganslern Slope on Monday, 27th February, and Tuesday, 28th February (the first run begins at 10.00 and the second at 13 hrs).
Michael Huber, KSC President and Chairman of the Organising Committee, is looking forward to the event with both eager anticipation and excitement: "What inspires Kitzbühel Ski Club as Organiser is being able to facilitate sporting performances of the highest standards. What could possibly be better than the challenge of staging two Para Alpine Ski slaloms on the famous Ganslern slope, which is also rated as very difficult? In deference to the expected top performances of the athletes, KSC as Organiser also intends to deliver its best performance and create excellent conditions for the hosting of some first-class races."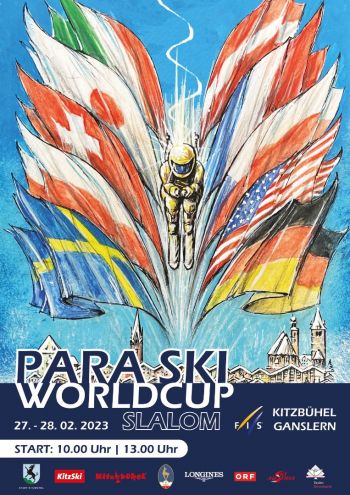 Around 80 participants from 16 nations will travel to the Para Alpine World Championships on the Ganslern Slope. Mario Mittermayer-Weinhandl will officiate as Chief of Race and the piste managers, safety officers and other key functionaries responsible for the Hahnenkamm Races will also be on hand for the occasion. Admission to the races is free.
Race winners (in four categories) will receive a KSC "chamois" trophy and non-cash prizes, as well as prize money of 500 euros each (second place: 300 euros, third place: 200 euros).
Both races will be streamed live on hahnenkamm.com/paraski and ORF Sport+ is also planning to broadcast the event.
Para-sport alpine skiing is accessible to many people with physical disabilities, due to the permitted use of aids and accompanying skiers. For example, athletes with amputations, functional limitations of arms and legs, as well as sports persons with severe visual impairments or blindness. Those in wheelchairs, for example, ski with mono-skis, while those with severely impaired vision race with a guide who skis up front and issues commands.
Photo © ÖSV/Hartmann
---
Related Posts
---