Yule is jubilant about his gondola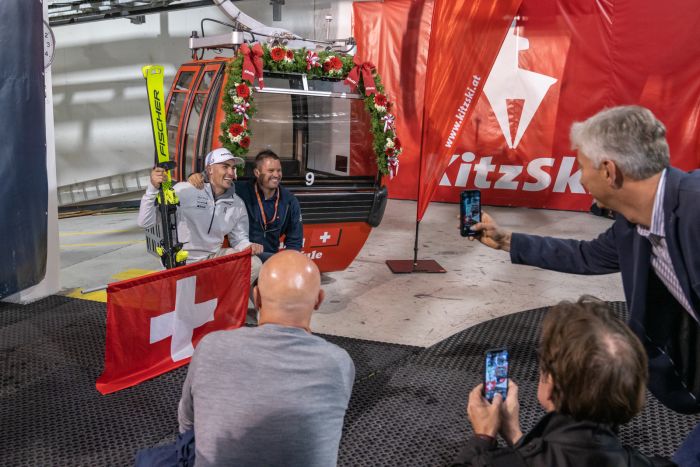 16.09.2022
Daniel Yule secured the first Swiss slalom victory in 52 years on the Ganslern Slope on 26th January 2020. And now he was able to celebrate in Kitzbühel all over again: on receiving his very own gondola.
Even after years have passed, such a victory on Ganslern Hill unleashes unimagined energy. Daniel Yule had only returned to Switzerland from training in Argentina on Wednesday, before travelling to Kitzbühel on Thursday, where he received his Hahnenkamm gondola that evening in the presence of his family, team and a delegation of fans. A well-deserved reward for his Slalom triumph in January 2020, the first for a Swiss athlete since Dumeng Giovanoli in 1968.
The Ganslern Slope obviously suits Daniel Yule because "his racing record is first class" attests Michael Huber, President of Kitzbühel Ski Club: "In the eight times you have participated here, you finished in the top 10 four times and the top 3 twice." Moreover, it was also Kitzbühel where he made his World Cup debut back in 2012. What is it about this slope?  "I like challenging slopes. Besides, being able to race in a place steeped in such skiing history motivates me," said the 29-year-old, who patiently and always smiling, accommodated over 50 photo requests with his fans during the course of the evening.
Anton Bodner, CEO of Bergbahn AG Kitzbühel, was also delighted:  "Daniel, you are so grounded and likeable, it makes one's heart swell. We need guys like you as role models for our youth, to show them what they can achieve. Thank you for taking the time to come."
The occasion in Kitzbühel was a pleasant change for Daniel Yule, as well as a booster for the coming weeks: "The gondola presentation has again shown me what we train so hard for, especially in summer: for moments like these, which I was able to experience together with my family, my team and fans. It was wonderful and fills me with renewed energy. I am fully motivated for the coming winter." Daniel Yule's eyes widened, however, when he looked down from the Hahnenkamm Start House onto the Streif: "I'm really happy that I'm a slalom skier. Hurtling yourself down there deserves a lot of respect." In fact, it was his first time on the Hahnenkamm. as taking the chairlift up Ganslern Slope in January usually suffices for him.
Daniel Yule had no special requests for Christian Schroll, Vice-Chairman of the Ganslern Slalom, that evening:  "The racecourse should remain as it always is, you guys do a great job. It's always icy, always hard and always challenging on Ganslern Hill, but our coaches can always adapt to it well."
---
Related Posts
---