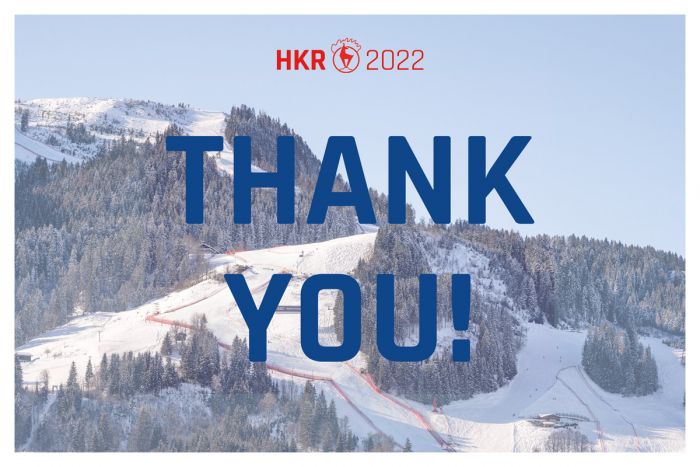 26.01.2022
Dear Friends of the Hahnenkamm-Races,
The 82nd year of the Races was a top-class sporting festival all over again! Despite wintry weather, the Races could be held under fair and above all safe conditions for the world's best athletes. The entire Organizing Committee would like to congratulate the winners and podium nations from Norway, France, Great Britain, Switzerland and Austria.
Our thoughts are already focused on the future. Our greatest wish is that next year's Hahnenkamm Races can be held once again in the company of fans in the finish area and alongside the racecourse. Because it is their sheer joy and celebration of the athletes' performances that distinguishes THE HAHNENKAMM RACES. With this in mind, please save the date from 16th to 22nd January 2023!
For the success of this year's extraordinary races, however, huge thanks go to:
the participating athletes and teams for their extraordinary sporting achievements
the television partners surrounding ORF as well as EBU and IMG for broadcasting the races all over the world
all sponsors and the WWP marketing agency for financially supporting the organization of the races
the journalists and all media representatives reporting from the event
the ARGE consortium partners of Kitzbühel Municipality, Kitzbühel Tourism and Bergbahn AG (Cable Car Co), as well as all Streif and Ganslern landowners
the countless members and officials of the Organizing committee, be it on the slope in the stadium, in the offices or in the race management.
Week 1 of preparations for the next Hahnenkamm Races now begin for the OC, but we're in no hurry. Because after 50 cm of fresh snow over the Race Weekend, sunshine and powder snow are on the agenda and some very enjoyable skiing for the second half of the Kitzbühel winter. For this, there are no spectator limits and the Streif and Ganslern, together with the entire KitzSki ski area, await their fans.
---
Related Posts
---