As long as there is plenty of snow and tea on tap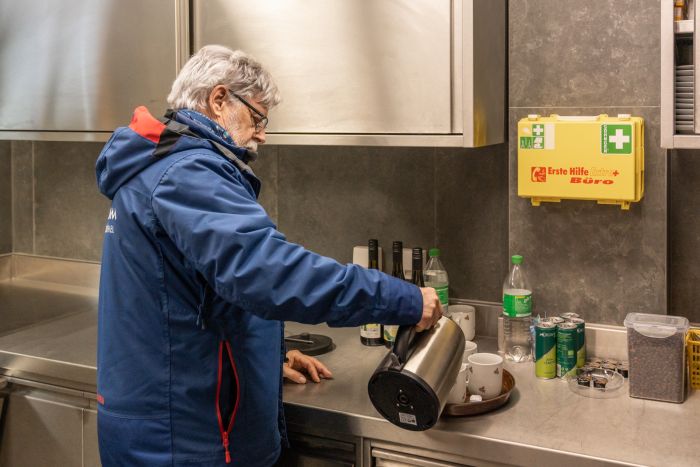 15.01.2023
Peter Feeg probably has one of the nicest jobs on Mount Hahnenkamm: he takes care of and keeps guests at the Starthaus entertained. Including, amongst others, the rather modest expectations of the athletes. With one exception.
In a world of anglicisms and sometimes completely incomprehensible job titles, the title of Peter Feeg's job at the Hahnenkamm Races (as well as the rest of the year) seems rather antiquated: he is the Starthaus steward. But this job is not as dry as it sounds - on the contrary. Peter Feeg is responsible not only for the most beautiful and (since renovations in 2020) most modern start house between Canada and Japan - but predominantly for its guests. And he has plenty of them on days like these: "We are responsible for ensuring that the racers have everything they need and that they can prepare in peace. We offer selected ski club partners a peek behind the scenes and, of course, we tend to our own staff." By this Peter Feeg means, for example, the ski club's piste and safety crew, who have been busy preparing the Streif for weeks: "Especially in bad or cold weather it is important for our 'piste experts' to be able to warm up with us and that hot tea is always on the ready." Peter Feeg, originally from Vienna, will be assisted, amongst others, by Heinz Rieser, am huge-hearted and legendary Kitzbühel restauranteur – while catering for guests and ski sport protagonists.
During Race Week, the Starthaus is complemented by an even bigger brother: die Energy Station. Peter Feeg is "particularly proud of his neighbour, because the Energy Station is truly unique and something that does not exist elsewhere in the entire ski circus." Here, too, athletes can prepare in peace, get a massage, sit on the ergometer or watch the races (via panorama window or TV). Do the athletes have any special requests in the Starthaus? A particularly strong espresso, for example, or chamomile tea before their first time on the Streif? "Not really, their expectations are rather modest," says Peter Feeg. Kriechmayr, Odermatt, Kilde and Co are only fussy about one thing: "The most important thing for all of them is that we have enough snow in the start area for them to dig their heels in."
Photo © K.S.C./alpinguin
---
Related Posts
---