Austria wins the Junior-Race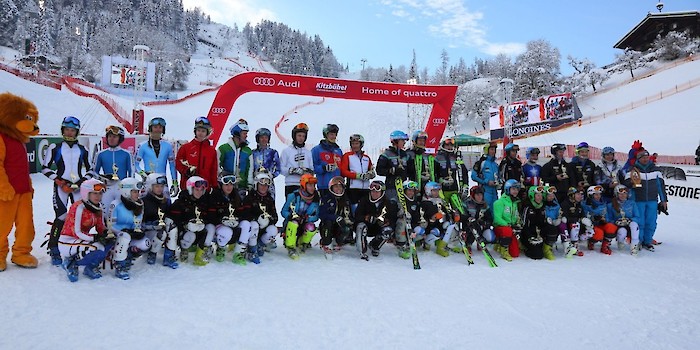 20.01.2016
At halftime it looked like the competition would end in the German team's surprise victory – but the Austrians proved themselves in the Slalom, winning the race decisively. The young men were especially impressive: Christoph Meißl, Simon Oberhamberger and Elias Höller, who had already taken the lead in the Giant-Slalom, brought victory to Team Austria 1. The young Team Austria 2 athletes were five seconds behind, landing in second place.
The Slovenians' surprisingly strong performance in the second round led them to third place. The German athletes were visibly disappointed in the end – after four eliminations in the Slalom, they fell behind even the Italians. Team Netherlands, participating for the first time, had to make do with last place.
However, Team Germany wasn't feeling blue for long: the six best teams were congratulated during the awards ceremony and every athlete was beaming. As was Hansi Hinterseer, who presented the teams with their prizes and applauded them all for their achievements, sure of the fact that he would see some of them on the Ganslernhang again in the near future. Hans Pum, President of the ÖSV, was very happy with "his" racers and says that, after this strong performance, Austrian ski fans need not fear the future.
Race Management had another highlight in store for the junior athletes after the race: together with Hannes Trinkl, FIS Race Director, and Chief of Race Axel Naglich, they inspected the Downhill race course.
---