EVERYTHING IS ALSO GOING TO PLAN AT GANSLERN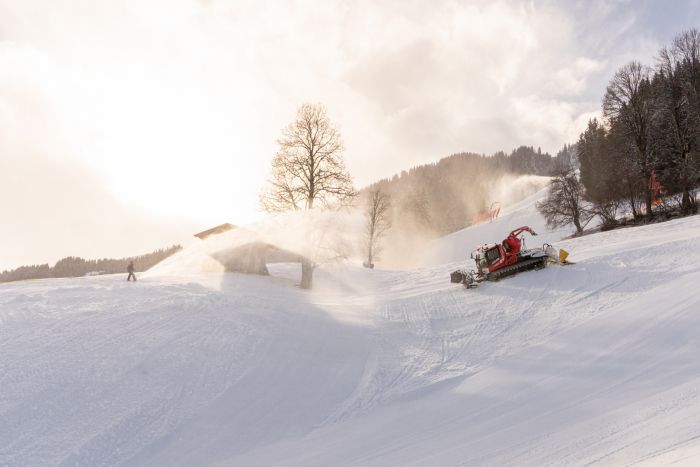 08.01.2022
Work continued unabated on the Streif and Ganslern slopes on Saturday. The Slalom slope is almost race ready, all that's missing is a "shot" of water.
Ganslern slope has also been bustling with activity since Friday. Warm temperatures during the days after Christmas have barely affected the course: "Of course it meant that we lost a little snow, but there is still plenty available. The hill is in great shape," says deputy Slope Manager, Christian Schroll. Preparation of the Start Slope is as good as done. On Saturday, work continued with a snow groomer and watering of the lower section, the middle section will follow at the beginning of the week: "Because of the rain after Christmas, there is a lot of water in the snow. However, we still have to add a little so that the fresh snow and artificial snow combine well," explains Christian Schroll, who is very confident two weeks before the race on 23rd January: "If the weather stays like this, we'll not only be on schedule, we may even gain a little headway." And after the bad luck of last year's cancelled race, the Slope Team is eager to welcome the world's best slalom racers back this year.
Heavy machinery belonging to the Bergbahn Kitzbühel Cable Car Co. was also in action again on the Streif on Saturday. A special focus of the challenging snow grooming operations was placed on the Mausefalle, Steilhang, Alte Schneise and Traverse sections at Unterhausberg. As on the Ganslern - snow has to be evenly distributed and compacted with water. The impending Downhill race is also becoming increasingly visible alongside the racecourse: for example, a camera tower for ORF is currently being erected at Oberhausberg.
---
Related Posts
---