Faces wreathed in smiles and sunshine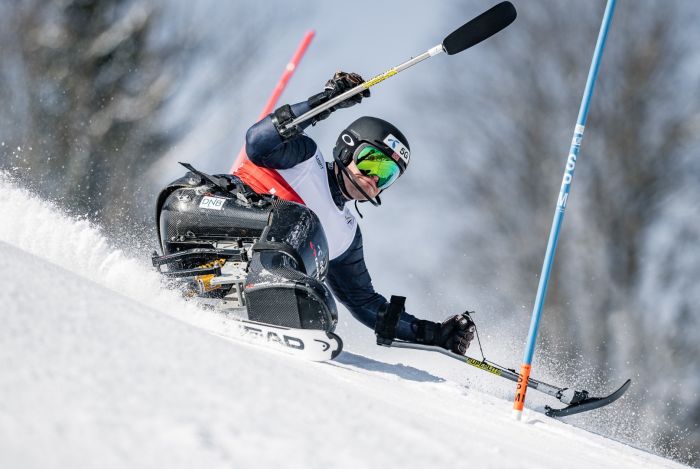 28.02.2023
The second Para Alpine Ski World Cup Slalom on the Ganslern Slope delivered a glorious finale, as an array of international winners were accompanied by magnificent weather conditions. Veronika Aigner and - as on the previous day - Johannes Aigner won for Austria. Laurie Stephens, Ebba Aarsjoe and Arthur Bauchet also celebrated a double victory.
After a cloudy start on Monday, Kitzbühel revealed its most beautiful side at the second Para Alpine Ski World Cup slalom on the Ganslern Slope. Sunny conditions provided athletes with a picture postcard winter's day on a challenging course. Nice side effect: thanks to the glorious weather, there were even more spectators at the finish than at the first race. Children from Kitzbühel's primary schools created an incredible atmosphere, and the delegation from the French team (complete with their magnificent bell) was unmistakable.  
Four athletes repeated their achievements of the previous day: Laurie Stephens (USA) in the "sitting" category and Ebba Aarsjoe (SWE) and Arthur Bauchet (FRA) in the "standing" category. The successful local duo Johannes Aigner and guide Matteo Fleischmann triumphed again among the visually impaired participants. After her first World Cup victory on Monday, Elina Stary (with guide Anna Stoß) was second only to teammate Veronika Aigner (with guide Elisabeth Aigner) in the second race.
Arthur Bauchet was delighted, as the French athlete celebrated his 50th World Cup triumph in Kitzbühel on Tuesday: "I was the favourite, but the Ganslern Slope was new territory for me - I love it now. Merci to Kitzbühel Ski Club for the organisation! These were the best races we've ever had and we'd love to come back every year." Echoing Arthur Bauchet, Sweden's Ebba Aarsjoe also won confidently on both days: "It means a lot to me to celebrate two wins at the same time on such a cool and historic slope. My inner-child couldn't be happier."
Sascha Kavelar, head coach of the Austrian Para Ski Team, was also very happy:  "It was unbelievable what Kitzbühel Ski Club put together over these few days. I sincerely hope that many other nations will recognise what is possible in our sport, because we really owe it to our athletes to hold events like this. A big thank you to KSC."
Michael Huber, KSC President and head of the Organising Committee, was delighted to receive these words of praise and concluded, "We are proud and happy that we were able to successfully stage the first Para Alpine Ski World Cup Slaloms in Kitzbühel. In addition to the outstanding sporting performances, the internationality is fascinating, with 18 participating nations, including three countries from the southern hemisphere, Australia, New Zealand and Chile. I was particularly surprised and impressed by the large number of volunteers from the ranks of the HKR Organising Committee who dedicated themselves to the cause with great commitment and enthusiasm. Thank you!"
Media interest in the two Para Alpine Ski World Cup slaloms was also great. TELEHO's live signal was picked up by five countries (Germany, Austria, Switzerland, Norway, Italy). Moreover, the races could be followed worldwide free of charge thanks to the live stream at www.hahnenkamm.com. ORF Sport+ also broadcast live and online.
KITZBÜHEL 2023 FIS PARA ALPINE SKI WORLD CUP, Slalom 2 on 28th February, final result:
Women Vision Impaired
Veronika AIGNER mit Guide Elisabeth Aigner (AUT) 1:44.56
Elina STARY mit Guide Anna Stoß (AUT (AUT) 1:44.78
Menna FITZPATRICK mit Guide Katie Guest (GB) 1:49.43
Women Standing
Ebba AARSJOE (SWE) 1:42.22
Anna-Maria RIEDER (GER) 1:52.88
Aurelie RICHARD (FRA) 1:57.62
Women Sitting
Laurie STEPHENS (USA) 2:17.22
Men Vision Impaired
Johannes AIGNER mit Guide Matteo Fleischmann (AUT) 1:35.80
Neil SIMPSON mit Guide Rob Poth (GB) 1:38.39
Hyacinthe DELEPLACE mit Guide Roy Piccard (FRA) 1:44.02
Men Standing
Arthur BAUCHET (FRA) 1:35.42
Aaron LINDSTROEM (SWE) 1:41.45
Robin CUCHE (SUI) 1:43.78
Men Sitting
Rene DE SILVESTRO (ITA) 1:36.24
Jesper PEDERSEN (NOR) 1:37.22
Niels DE LANGEN (NED) 1:40.91
Para Ski World Cup Slalom No. 2 - results
Photo © K.S.C./alpinguin, Stefan Adelsberger
Image Gallery
---
Related Posts
---