Magical Monday on the Ganslern Slope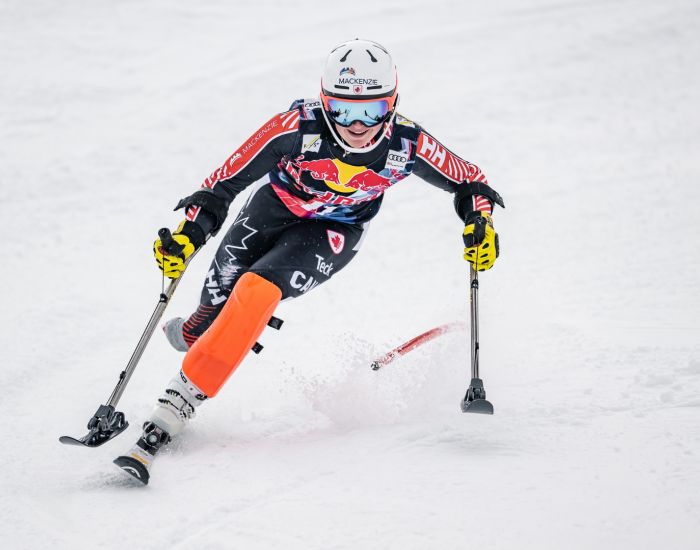 27.02.2023
Exciting opener for para alpine ski athletes at the first slalom on the Ganslern slope. Victories went to Sweden, Norway, France, the USA and Austria in two categories. The second race follows on Tuesday at 10 hrs.
What an awesome start to the week on Kitzbühel's Ganslern Slope! The international para ski elite gathered today on the slalom hill. A total of 51 athletes from 18 nations were at the start, including skiers from New Zealand, Australia, Chile and Great Britain. There was also great media interest, as the live signal from TELEHO was picked up by five countries (Germany, Austria, Switzerland, Norway, Italy) Moreover, the races could be followed worldwide free of charge thanks to the live stream at www.hahnenkamm.com/paraski. ORF Sport+ also broadcast live online.
Under cloudy conditions and at 2 degrees below zero, a gripping race developed in which women and men competed in three categories each (visually impaired, standing, sitting).  The performances were as outstanding as they were impressive. Whether blind, visually impaired, functionally impaired in lower or upper limbs, or paralysed, the athletes all plunged fearlessly down the Ganslern Slope and with technical brilliance.
Elina Stary (with guide Anna Stoß) and Johannes Aigner (with guide Matteo Fleischmann) secured red-white-red victories in the visually impaired category.  Ebba Aaarsjoe from Sweden won the women's standing event and Laurie Stephens from the USA the women's sitting event. Arthur Bauchet from France won the men's standing event, Jesper Pedersen from Norway the sitting event.
Everyone will have the chance to claim revenge or a double victory tomorrow, Tuesday, when the 2nd slalom starts at 10 hrs. Admission to the race is free!
KITZBÜHEL 2023 FIS PARA ALPINE SKI WORLD CUP, Slalom 1 am 27. Februar, Endergebnis:
Women Vision Impaired
Elina STARY mit Guide Anna Stoß (AUT) 1:45.74
Barbara AIGNER mit Guide Klara Sykora (AUT) 1:47.79
Menna FITZPATRICK mit Guide Katie Guest (GB) 1:51.85
Women Standing
Ebba AARSJOE (SWE) 1:45.20
Anna-Maria RIEDER (GER) 1:55.69
Aurelie RICHARD (FRA) 1:59.51
Women Sitting
Laurie STEPHENS (USA) 2:19.72
Men Vision Impaired
Johannes AIGNER mit Guide Matteo Fleischmann (AUT) 1:36.74
Hyacinthe DELEPLACE mit Guide Roy Piccard (FRA) 1:44.44
Alexander RAUEN mit Guide Benedikt Staubitzer (GER) 1:47.57
Men Standing
Arthur BAUCHET (FRA) 1:35.872.
Robin CUCHE (SUI) 1:44.59
Aaron LINDSTROEM (SWE) 1:45.26
Men Sitting
Jesper PEDERSEN (NOR) 1:37.19
Rene DE SILVESTRO (ITA) 1:37.58
Niels DE LANGEN (NED) 1:40.52
Paraski World Cup Slalom no. 1 - results
Photo © K.S.C./Stefan Adelsberger; alpinguin
Image Gallery
---
Related Posts
---