Hahnenkamm-Fan Hubert von Goisern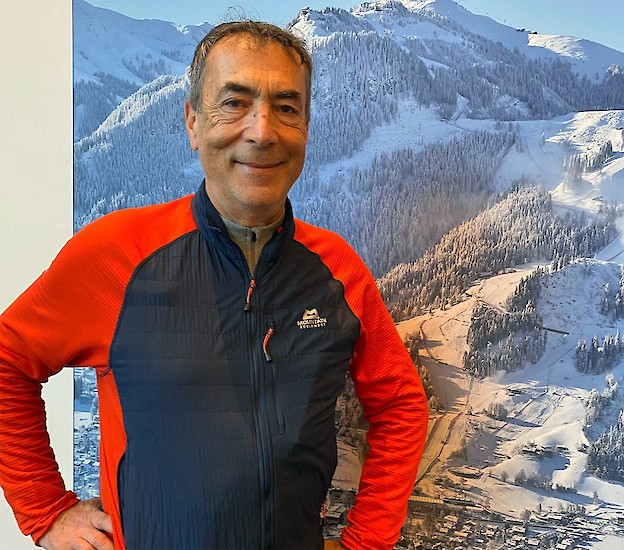 24.01.2020
Hubert von Goisern loves coming to the Hahnenkamm Week, and has been doing so for years. Kitzbühel is like his second home, not only because it exudes a very special charm. In this interview, he reveals why this is so and which of his songs he associates most with the Hahnenkamm Races.
You are a musician, so why are you a Hahnenkamm fan?
I may be a musician, but like so many others in Austria and all over the world, I am also an enthusiastic skier. I avoided Kitzbühel for a long time, but friends introduced me to the place and now it feels just like home. I now know that Kitzbühel is a great place to be, it's magical.
Which of your songs do you associate most with the Hahnenkamm Races?
I remember when I was here for the first time, I think it was a Saturday evening after the Downhill race award ceremony, when they played my "Juchitzer" song. It was a really impressive moment! It was the first time that I saw and heard the song in a completely different light.
Who are you rooting for this year? Do you have a favourite?
I would say there are a handful of favourites. Amongst which, there are at least two Austrians, thank God! One is Mothl (Matthias Mayer) and the other is Vinc (Vincent Kriechmayer). As a fellow Upper Austrian, I am keeping my fingers crossed for him, of course. But I am also a real Mothl fan. He is one cool dude and, in the shape he is in right now, our best and hottest contender.
What are you up to during the Hahnenkamm Week?
I was lucky and privileged to have dinner on Tuesday evening with members of the speed troop and was able to gauge a little how they are feeling. I went skiing first thing on Wednesday and watched the training run. I "slipped" a little down the Streif on Thursday with Marco Büchel. I'll be watching the Super-G on Friday.
Photo © K.S.C.
---
Related Posts
---