Kitzbühel's annual calling card to the world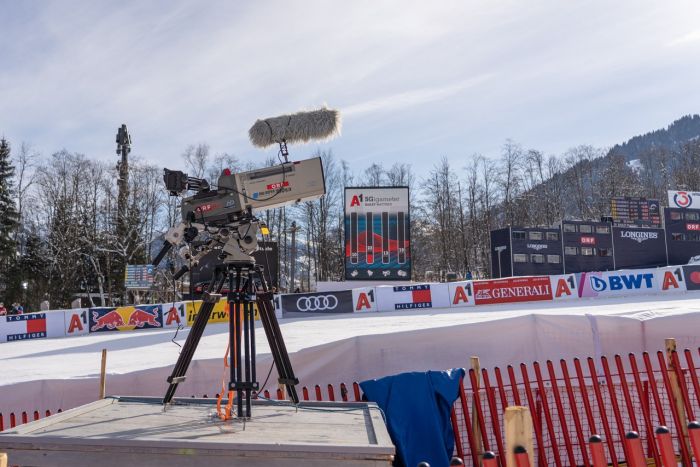 21.01.2021
The Hahnenkamm Races can be watched on almost 100 channels worldwide. Ranging from ORF, to Eurosport, RAI, SRG and ZDF, to broadcasters from Canada, the USA, China and Thailand.
Whether from Germany to Canada, Italy to Japan, Finland to the USA or Thailand to China - the Hahnenkamm Races are screened in all corners of the world - live in almost 20 countries alone. Almost 100 broadcasters in total will report on the happenings on the Streif in 2021. Our host broadcaster ORF will screen all three races live on ORF 1 and via stream on ORF-TVthek (within Austria). It all starts with Downhill training on Thursday, 21st January, at 11 hrs. ORF 1 will commence transmissions again at 11 hrs on both Friday (Downhill) and Saturday (Downhill), and at 9.50 hrs on Sunday for the Super-G. New cameras provide even more spectacular imagery of the speed races in Kitz. ORF director Michael Kögler has recourse to a number of innovations for the speed broadcasts in 2021, which will deliver the most stunning images ever seen from the Streif. At the start section, a new remote spidercam pictures the new Start House head on, whilst capturing the faces of the skiers just before they hurl themselves from the start-line. A new trajectory has been selected for the camcat in the Lärchenschuss/Oberhausberg section. Two new super slow-motion shots deliver extraordinary images from below the Seidlalmsprung jump and approach to the Hausbergkante respectively. A new crane has been installed in front of the Seidlalmsprung jump, which will also provide more direct images of the key passage on the Super-G start slope. As a visual highlight, skiers will seemingly jump directly towards the Kitzbüheler Horn.
Germany, Switzerland, Italy
ZDF will be broadcasting from Kitzbühel to German viewers on all three race days, while SRF 2 provides thrilling coverage for Swiss audiences. Eurosport and Italian Rai will also be reporting live throughout the weekend. Exact screening times can be found on the website of the respective broadcasting station.
The following countries will be broadcasting live from Kitzbühel:
Austria (ORF)
Germany (ZDF, Eurosport)
Switzerland(SRG)
Croatia (HRT)
Czech Republic (CZTV)
Finland (YLE)
Italy (RAI) 
Slovenia (RTV) 
Norway (TV2) 
Sweden (SVT) 
Great Britain (BBC) 
USA (Peacock Network) 
Thailand (33BTV) 
China (CCTV) 
Japan (JSports) 
Canada (CBC)
---
Related Posts
---