Matthias Mayer has got it – the gondola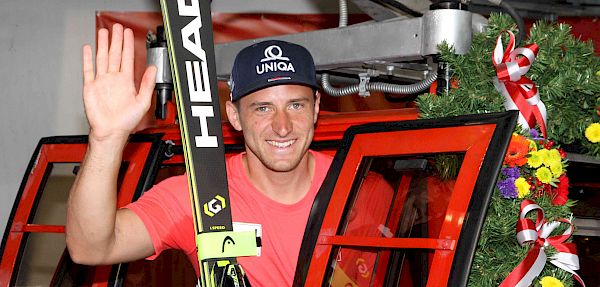 21.06.2017
Kitzbühel, Wednesday, 21st June
On Friday the 20th June, Austrian Matthias Mayer won the Hahnenkamm Super-G and, to this day, has been waiting for yet another special event. In accordance with tradition, the winner of a Hahnenkamm race receives "his" gondola.
Over 150 fans, family members, ski legends and Organising Committee members were present at today's ceremony. "Unbelievable, I did not realise there was a second winners presentation ceremony", said Mayer after receiving his gondola. The Mayer-Olympiamusi band and KSC-Musig were also in attendance, who performed together.
After some words of welcome from Tourism President, Signe Reisch, Mayor Klaus Winkler and KSC-President, HKR-Chief, Michael Huber, Claudia Buchner, Margret Mayer and Helmut Mayer, as well as last year's Downhill winner, Peter Fill, and ski legends, Ernst Hinterseer and Hias Leitner, were invited to join the photo-call. On the mountain, Josef Burger from the Board of the Cable Car Co. then officially handed the gondola over to Matthias Mayer. The Super-G champion was extremely patient, taking time to give interviews and pose for many pictures.
Afterwards, a pleasant get-together was held in the Streif Start House. Many "Mothl" fans then took the opportunity to then walk down alongside the Streif, under the expert guidance of KSC board member, Peter Obernauer.