A Big Day for Henrik Kristoffersen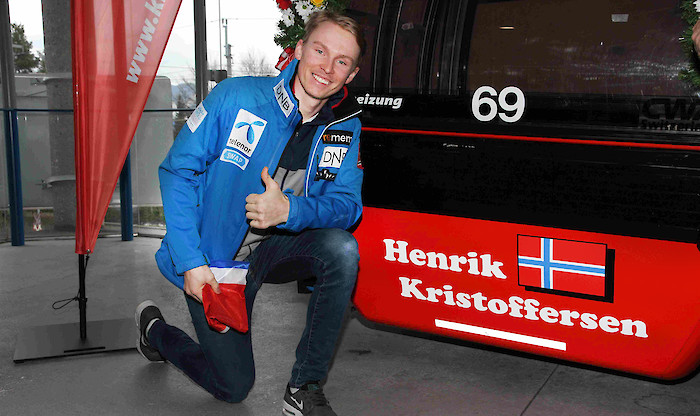 05.04.2017
The time has finally come! Norwegian Henrik Kristoffersen, received his gondola today in Kitzbühel. The Hahnenkamm Slalom Winner of 2016 was deeply moved Over 30 athletes were in attendance.
Organizers of the Hahnenkamm Races in Kitzbühel, the Kitzbüheler Ski Club (K.S.C.), quickly grasped the opportunity to organise the presentation ceremony on finding out that Henrik Kristoffersen was staying in Kitzbühel. Former HKR winners, Roland Collombin and Didier Defago from Switzerland, and Jure Kosir from Slovenia were also present. Many other athletes also turned up to show their appreciation at the gondola presentation ceremony at the base station of the Hahnenkammbahn cable car.
Hans-Petter Buraas, Carlo Janka, Christof Innerhofer - have all stood on the Hahnenkamm winner's podium several times.
Kristoffersen was obviously delighted: "Not only can the hardest downhill slope be found here, but also the most challenging slalom run". Winning here is really special. It is a great honour to now have a gondola that bears my name".
The presentation ceremony continued with Linus Strasser and Michael Matt, both first-time winners in the World Cup this year, as well as Tessa Worley, Michelle Gisin, Frederica Brignone, Frida Hansdotter and biathlon stars, Simon Schempp and Emil Svendsen. President of the Kitzbühel Ski Club, Michael Huber, was visibly proud of the "accumulation" of medal winners. All in all, these athletes have 22 Olympic and 94 World Cup medals, as well as 490 World Cup placings between them. Ernst Hinterseer and Hias Leitner were also amongst the guests.
---