Norwegian festival at the Super-G: Kjetil Jansrud wins ahead of Kilde and Mayer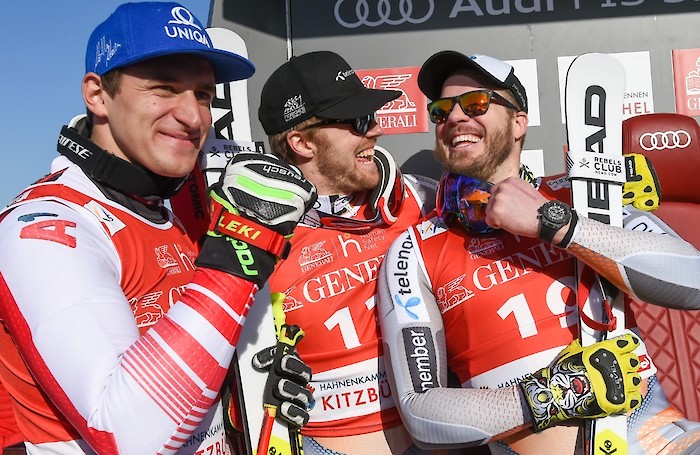 24.01.2020
Kitzbühel's 80th Hahnenkamm Races began in perfect weather conditions. On this traditional Super-G Friday, it wasn't just the sun that was shining: Kjetil Jansrud (NOR) was beaming after an almost perfect run and a seemingly effortless victory.
Next to no errors were detectable in the 34-year-old's race and he performed splendidly in the upper course sections.
"Of course, it's incredible to win here in Kitzbühel. I'm very pleased because it's not been an easy ride for me lately. I've not been feeling great over the past few weeks. Now I've won back my feel-good-vibes, which is nice."
This isn't Jansrud's first golden "Gams" trophy: Five years ago, he won the Downhill in Kitzbühel, and three years after that he made it onto the podium again, coming second in the Super-G. Today marks his third strike.
Second place also went to Norway: Aleksander Aamodt Kilde has been a hot tip for the podium in Kitzbühel for a while. Three years ago, he came fourth, missing the rostrum by a whisker. Now, it was finally his time to shine:
"This is great, today I was very stable from top to bottom. Kjetil earned his victory, though – I had a hunch that he'd win today."
But the 27-year-old won't be the only one to receive a silver "Gams" trophy at the award ceremony. Matthias Mayer equalled the Norwegian's runner-up time exactly, despite having some trouble right after the start – he nearly fell:
"The edge of my ski snagged a groove. That wasn't ideal. Of course, I was hoping for a win, but Kjetil's run was great."
Swiss racer Mauro Caviezel landed in fourth place, missing the podium by roughly 30 hundredths of a second. Mattia Casse (ITA) delivered a strong performance and came fifth. Beat Feuz (SUI), also a top favourite, did not manage a blip-free performance: He came seventh. Last year's champion, Josef Ferstl, with bib number 1 was unlucky: He wasn't able to find his ideal race line and did not make it under the top 30.
Photo © SPIESS / KLECHA / AS-PHOTOGRAPHY
At 18:30 hrs today, the successful Norwegian duo and Matthias Mayer will be fittingly celebrated: The award ceremony will take place in the finish area. Shortly before, there will be a public draw for tomorrow's Downhill (from 18:00 hrs).
Image Gallery
---
Related Posts
---