Slalom Winners' Perspective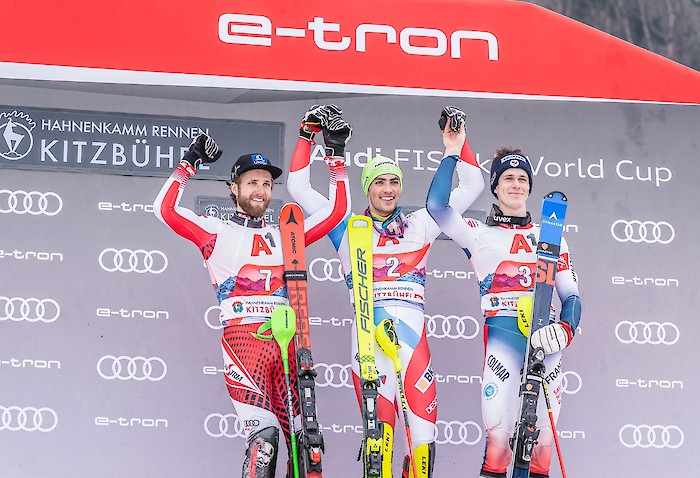 26.01.2020
Today, the podium was complete for a change , with 1st, 2nd and 3rd places covered – and winning smiles all round: Daniel Yule, the Swiss man who can speak perfect English, emphasised at the press conference that:
"Everyone talks about the spectacular Downhill race in Kitzbühel, but the Slalom on the Ganslern Slope is just as important for the athletes. To win in Kitzbühel has always been my childhood dream."
Marco Schwarz, who completed the Austrian podium series with 2nd place was very satisfied with his performance:
"It feels good to get back to my previous form. I had to test myself again after my injury. It is a great feeling to have the silver "Gams" trophy in my hands."
The first bronze trophy of this Race Weekend went to last year's winner, Clement Noel from France.
"I messed the first run up a bit, so I really had to attack the course in the second heat, and the effort fortunately paid off."
Now the racers have to fully focus on the upcoming Night-Race in Schladming – each, with one more trophy in their bag.
Photo © AS-PHOTOGRAPHY
---
Related Posts
---