Team Austria 1 is Longines Future Hahnenkamm Champion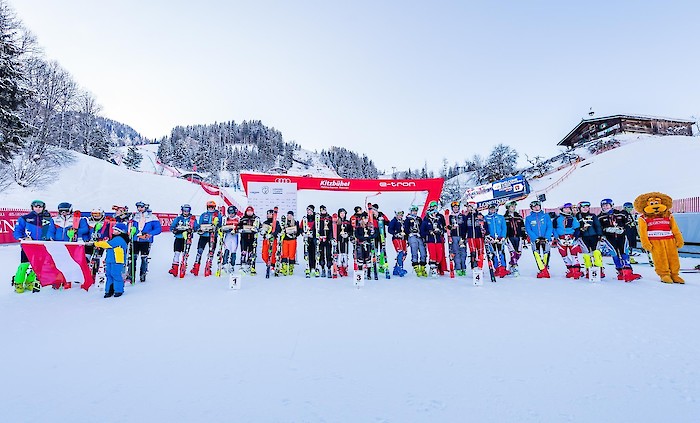 23.01.2019
The twists and turns of a Giant Slalom followed by a challenging Slalom: The Longines Future Hahnenkamm Champions Race presented young athletes with an exciting challenge again this year. As in previous years, this generation of young athletes consisting of 14 to 15-year-old talented skiers delivered a spectacular show – one that is unrivalled in international terms.
Team Austria 1 won the race's 19th edition: Lena Fletzberger, Victoria Bürgler, Victoria Eisner as well as Jakob Eisner, Oscar Heine and Jakob Greber were in a class of their own and triumphed with a respectable lead of almost seven seconds (4:45,03). The quartet took the lead in the first run with some decisive swings in the Giant Slalom.
"It is a truly special experience to ski on the Ganslern Slope here,"
said Greber. "We are very satisfied with today's performance."
Second place went to Team Germany, who delivered a sterling performance with Kiara Klug, Sophia Zitzmann, Kim Marschel, Simon Bolz, Jonas Witte and Matthias Kagleder (4:56,21). Similar to today's winners, Germany defended its position from the outset. "It was a great run," rejoiced German skier, Zitzmann.
The "Home Team" from Tyrol was also able to celebrate a podium position: Leana Dobler, Antonia Wieser, Amelie Leitner-Hölzl, Fabio Walch, Noah Walser and Nicolas Tabernig came third, only two seconds behind Germany (4:58,92). "It's a great feeling to ski here. I want to push on now and compete sometime in the World Cup – that is my goal," said a very happy Antonia Wieser in the finish area.
The top 5 of the Longines Future Hahnenkamm Champion Race was completed by Team Czech Republic (5:01,16) and Austria 2 (5:03,47). This certainly won't be the last appearance in Kitzbühel for several of the participating racers: Even some of today's top athletes such as Marcel Hirscher (Austria), Dominik Paris (Italy), Beat Feuz (Switzerland) and Fritz Dopfer (Germany) once took part in this fascinating contest at the Hahnenkamm. Now if that isn't enough to give hope to the participants of today…
Photo © AS-Photography & KSC
---
Related Posts
---