"The atmosphere here is unparalleled" - an interview with King of the Streif, Didier Cuche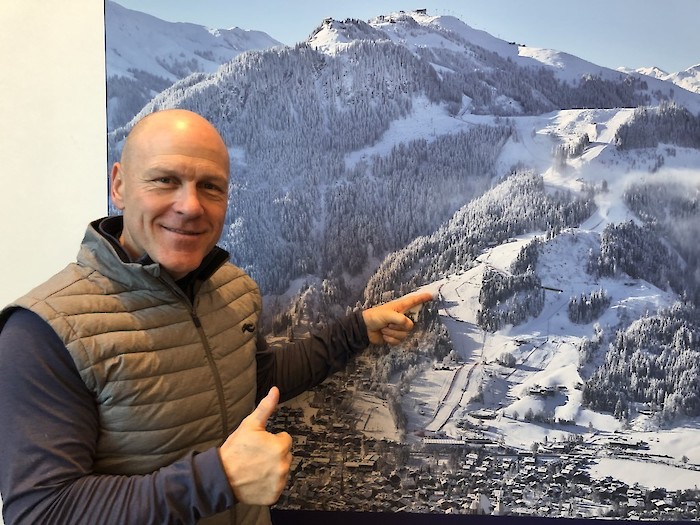 22.01.2020
Kitzbühel and the "Gams" trophy, Italy and pasta, wine and schnitzel. Certain things just go together. Didier Cuche and the Streif is another one of these "dream teams": The Swiss athlete was the fastest to finish on this infamous racecourse an incredible five times - making him the reigning record holder with five Hahnenkamm Downhill wins. After ending his active racing career, the 45-year-old still enjoys coming back to Kitzbühel. During this exclusive interview, he explains why this is so and why you could well meet him at a party in the city centre on Saturday evening.
Didier, it's good to have you back in Kitzbühel. What do you feel like when you arrive here?
I've come here every year since I quit - for sponsorship reasons too. It's always nice to be able to come back to Kitzbühel. It was a special feeling at the end of my career when I crossed the Swiss-Austrian border, travelling towards Kitzbühel. I knew where I was going and what I had ahead of me, but the car journey was always connected with joyful anticipation. Now I'm just a spectator and try to bring the race closer to the people I'm with on the Hahnenkamm.
Do you still get butterflies? Would you like to conquer the Streif again?
Of course I have moments when I could contemplate doing it all over again. But it takes way too much preparation to be able to get down the Streif both fast and safely. I keep myself fit with sports, but you can't compare that with my active racing career. The more the years go by, the more I realise what I actually achieved in Kitzbühel. You cannot take it for granted that you will get down this racecourse safe and sound.
What makes the Hahnenkamm Races so special for you?
What makes it so special, is that it is an incredibly dangerous racecourse. And the atmosphere is unparalleled. Nowhere else can you feel such healthy pride, as you do here on the mountain. 50,000 people gather around the track to watch the race. Everything that goes on around the races is a huge deal. So that's why pride, ambience and a dangerous course are the first things that spring to mind when talking about the Hahnenkamm Races.
Will you be watching the races again this year?
We have exclusive seats, together with the guests we are looking after this year. So I will watch every race and try to give them some input and explain the little things that I might be more aware of than the standard spectator who has never skied down here. Of course, I will enjoy the atmosphere. And I obviously don't want to miss the award ceremony on Saturday. That's always a special experience (laughs).
Does that mean you're going to celebrate in style on Saturday?
Nothing has been decided (grins). I'm sure I'll be at the Kitz Race Party and then we'll see how late we get out of there and if there is somewhere else we can go.
As a Swiss man, you are probably rooting for your fellow compatriot in the Downhill...
For sure: Beat Feuz has already been very close to winning. A fall in the traverse cost him the victory. I think he is ready for it. Matthias Mayer, however, also has what it takes. And Thomas Dreßen may have been a surprise winner here in 2017, but he is proving that it was no coincidence. Especially after his strong comeback with a victorious podium position - it was crazy. I think everyone who wants to win has to get past Beat Feuz this year.
Photo © K.S.C.
---
Related Posts
---