Great weather and piste conditions for the first Downhill training run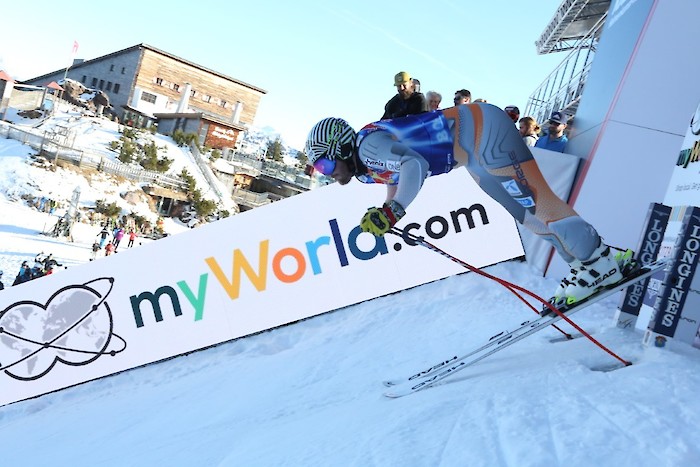 22.01.2020
Today, the athletes seized the chance to give the legendary Streif a test run in ideal piste and weather conditions. Norwegian racer Kjetil Jansrud couldn't hide his winning smile as he bagged first place after a brilliant performance under blue skies and sunshine. The Downhill champion of 2015 raced over the finish line with today's best time of 1:56,68 after an almost perfect run. Jared Goldberg (USA) came second and French racer Johan Clarey made third place. Carlo Janka, followed by Andreas Sander, complete the TOP 5.
Matthias Mayer plumped sixth place and emphasised that he was pleased with the Downhill training:
"It was a lot of fun today. I'm pleased with myself: It was a pretty good run"
, the Austrian ski star enthused.
Downhill champion of 2018, Thomas Dreßen, came 18th and commented that he had really been looking forward to today's training session. Thomas wanted to test the waters today, so that he could get used to the piste again:
"The Steilhang is just awesome. Start, Mausefalle, and then the Steilhang. Kitzbühel just makes the whole thing so special."
Vincent Kriechmayr snatched up ninth place and said in summary of his run:
"The Streif is nice and flows well. It's really enjoyable. I was able to ski a couple of sections quite well, others I still need to work on."
Daniel Danklmaier (Streif Europacup winner 2019) has been excited for Kitzbühel:
"I look forward to Kitzbühel all year round, and then when you're at the Start Hut you think: Why would I do this to myself? But that's what makes it all the more rewarding once you reach the bottom."
He landed in 23rd place in today's training run.
Anticipation for tomorrow's training, as well as the Downhill on Saturday are rising steadily. Nothing stands in the way of an exhilarating Streif Downhill, so athletes and fans alike can start getting excited about the 80th Hahnenkamm Races.
Photo © K.S.C.
---
Related Posts
---