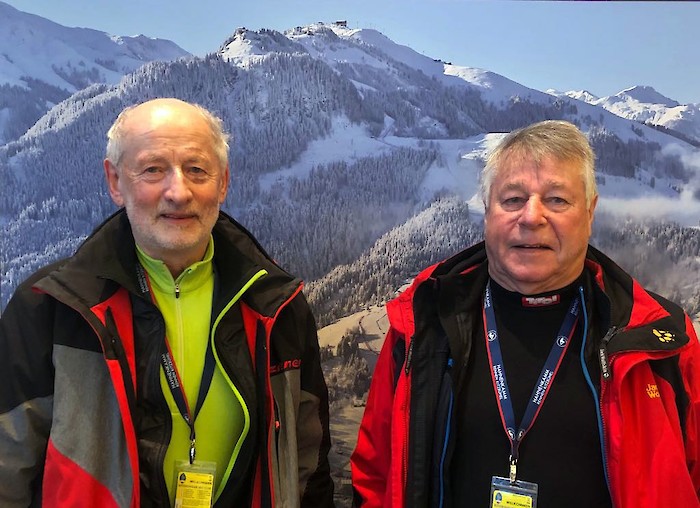 26.01.2020
On your marks, get set, go! – Timekeeping in the Ski World Cup is not quite that easy, however. Josef Greiderer and Hans Bachmann can vouch for that. They have been official timekeepers on the Streif for the past 40 years and ensure that split times are kept meticulously.
First of all: How do you become a judge?
Hans: You complete a training course with ÖSV and are assigned to an event. You have to be familiar with timekeeping procedures and know the distances between gates."
Josef: You also need to know all the ÖSV rules, regulations and competition guidelines. But I can't tell you exactly – it was such a long time ago (laughs).
40 years at the side-lines – who have you caught on your speed camera?
Hans: They were as quick as a flash 40 years ago too. Klammer, Müller, Girardelli, Weirather, Stenmark, Neureuther Christian. But we didn't have much contact with them. You had to leave them alone and we had to concentrate.
Josef: It was great if you met up with them. Every so often I would jump into a gondola just to meet a racer.
And from the gondola onto the slope. Where are you positioned on the Streif?
Josef: I measure interim times at the Seidlsprung jump. You see who's coming, officially register them and say "Zack", so everyone knows that he has crossed this point and triggered the timekeeping.
Hans: I was positioned up at the Hausbergkante for years, where I measured interim times. When you get a bit older, you get moved down to the finish line where I am the "hand-stopper." You always have to have an independent system running alongside official timekeeping operations.
Even in this era of computers and modern technology?
Josef: Everything has become more modern, but our role cannot be replaced entirely. In the event of a power cut, it is our timekeeping that is decisive. And our measurements are often absolutely spot on; years of experience and a keen eye are required.
How many time judges are there on the Streif?
Hans: In the past there were 40 or more. Now there are just under 20. Numbers have also reduced because we used to have gate judges, which are no longer required.
Josef: We are the final proof. Because a judge has the final word. We always strive to be independent, correct and always act in the skier's favour.
What would you consider most noteworthy in all the change you have witnessed at the Hahnenkamm Races over the past 40 years?
Hans: Preparation methods of the Streif racecourse have changed greatly. Introduction of the spray bar was a game-changer. That was a sensation. The slope is rock hard now.
Josef: I consider myself to be a good skier, but as I have got older, the Streif hasn't got any easier. I slipped stupidly last year and fell into the safety net with my rucksack. It occurred to me then that I should maybe think about stopping.
Hans: Yes, after 40 years, the time has probably come for us to handover our roles.
Photo © K.S.C.
---
Related Posts
---