"We do it out of passion!"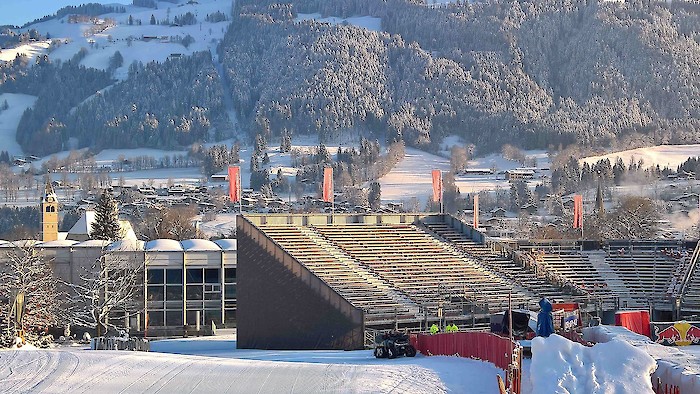 12.01.2018
"I was on the ski circuit myself for 26 years. And for that reason it is important for me that nothing happens to either the racers or spectators. That is the definition of success for me". Mandi Goller has been responsible for the coordination of the stadium and infrastructure of the Hahnenkamm Races since 2000. One week before they begin, he talks about the preparations, challenges and special features for this year's races.
The Hahnenkamm weekend attracts an average of 90,000 spectators.  That is about ten times as many people that actually live in Kitzbühel. What preparations are necessary to be able to receive all these visitors?
This year we have devoted around 25 days alone to safety meetings. All local authorities are also involved. In order to bring this amount of people to Kitzbühel, we have rented large-capacity car parks in Kirchberg and Oberndorf, from where the spectators are transported directly to the finish area of ​​the Hahnenkamm Races with our free shuttle service. This requires a huge amount of preparation. Signpost attendants begin installing signs at all key positions around two weeks before the races.
How long before the races, do preparations actually begin?
We (the K.S.C.) are a small team, but extremely efficient. Everyone knows what he or she is responsible for. On my part, that's the entire infrastructure, i.e. all stadium structures, TV towers and video walls, which I build with my team. What is most important is that we can rely on great tradespersons and companies, with whom we have worked together for years - sometimes even decades. It means I don't have to explain where every piece of fencing has to go - they know that already. Every year, there is a folder of photos for each section. In the event of someone not being around and another person has to complete a particular job, I give them the folder of photos and they are then able to complete the task in hand. We start building the television towers in November, otherwise we would never manage to finish on time. We started building the Downhill spectator grandstand on Monday (8.1.) and were finished on Friday, 12.1. You have to coordinate everything, sometimes on an hourly basis. Our design plan is ready by October.
How long does it take to dismantle these structures after the races?
We need around a week for the lower section of the finish area and the video walls.
You have been responsible for the stadium since 2000. What changes have occurred since then?
(He laughs). Well, rather a lot. At the beginning, the grandstand was much smaller and there was only one video wall. The grandstands are now much larger and there are more TV towers and video walls. Everything has changed, you can't compare it all with how it used to be.
Are there any special features this year compared to last year?
We have two very significant innovations. We want to make the slalom even more attractive. Until now, there were only a few spectators at the first section of the Slalom at the topmost part of the forest. We have built standing terraces there now, as the start of the race is also sensational to watch. It drops away steeply there, and we wanted to offer spectators the opportunity to go up and view the action. If this is received well, I would like to install a video wall there in future. We also have a new video wall at the "Mausefalle" section. Lots of people gather there to see the racers jump over the Mausefalle, the S-curve and entrance to the Steilhang.
There are not only superstructures and stadiums down in the valley; a number of rostrums are also located on the mountain. How do they get there?
They are flown up. Every piece of fencing, simply everything is flown up. It's the fastest way. The finish area is a golf course in summer, so we can't use a Manitou (telescopic loader) or forklift vehicles. We have hired two special snow groomers equipped with a special forklift, with which everything can be delivered without damaging the ground. It means more work, but on the other hand, we end up with a lovely clean finish area because no dirt is churned up. We only have a short time window to transport things up the mountain with snow groomers, which is not enough. The groomers can't be used after the racecourse has been prepared either. That spectators can ski parallel to the racecourse along the "Family Streif" run is a unique feature worldwide. We can't use the snow groomers up here either, as we would have to close the run. Which is why everything is flown up.
In terms of infrastructure, what are your parameters for deeming that a race has been successful?
 I was on the ski circuit myself for 26 years. I have been a ski service man and racing sport manager. It is important for me that the Hahnenkamm Races are accident free. It's a lot of work, but that is our job. Although we do not really see it as a job, otherwise we would not work for so many hours and days at the weekends. We do it out of passion. And it is important for me that nothing happens to either the racers or spectators. That, for me, is the definition of success.
Do you even have time to follow the races?
Yes, I have to. I have two screens in front of my office in the Zielhaus, and a huge video wall in front of me. I watch the videos in spring.
What do you wish for the next races?
That we have more time to build and, more importantly, that everything is accident-free.
Photo © K.S.C
---