After coming 2nd in the Super-G: Mayer crowned Downhill king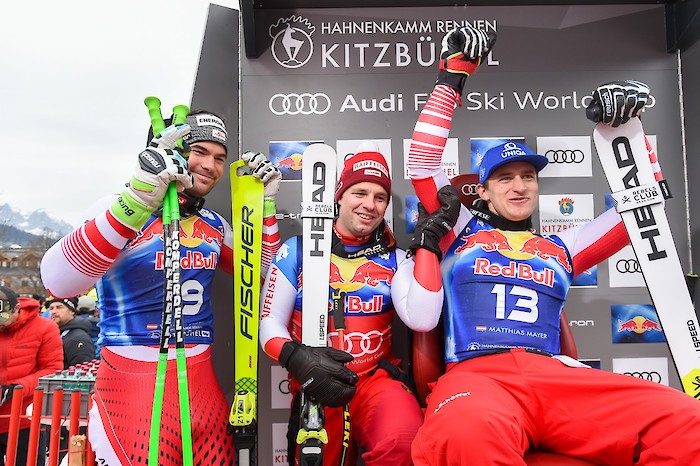 25.01.2020
Matthias Mayer was feeling a little frustrated yesterday: the Austrian was a favourite for first place in the Super-G, but after an error at the start he "only" made it to second place. Today, however, it all went smoothly for Mayer from the start to the finish line. The 29-year-old achieved an almost perfect run and 80th Hahnenkamm Races Downhill victory. You might say it's about time: Mayer has celebrated an impressive 5 podium placements in Kitzbühel so far, all of them in the Super-G. Now, he succeeded in the Downhill as well.
"I have to say, racing down that hill in front of thousands of people, to be in the lead, it's just fantastic. Especially after yesterday, which was already a great experience. Of course, I was tense. That just makes the victory even sweeter."
Mayer is joined on the rostrum by fellow countryman Vincent Kriechmayr. The 28-year-old was only two tenths behind his colleague, marking Kriechmayr's first podium placement in Kitzbühel.
"My run went quite well today. But I moved too far down in the Traverse, which cost me time, unfortunately. It was still a good run."
Kriechmayr won't be the only lucky recipient of a silver "Gams" trophy: Beat Feuz raced head to head with the Austrian, also landing in second place. Although the Swiss Racer will now have to wait a little longer for his first Kitzbühel victory, he can celebrate his fourth podium placement on the Streif.
"It was enough to win in Wengen, but this time I let "Mothl" (Matthias Mayer) have his day. It is his home crowd, after all"
, joked the Swiss racer.
Curious: After yesterday's Super-G (1st Jansrud, 2nd Mayer and Kilde), the Downhill award ceremony will also see an empty step for third place on the rostrum.
Though fastest in the final training run, Johan Clarey missed the podium by a mere five hundredths of a second, coming fourth. Fellow countryman Maxence Muzaton had a strong run and came fifth. Super-G champion Kjetil Jansrud followed in sixth place.
Peter Fill, Downhill winner of 2006, was rather unlucky: The 37-year-old Italian racer lost a ski during his swansong performance in Kitzbühel and was disqualified.
The Downhill award ceremony, complete with an impressive firework display, will begin at 18:30 hrs in the finish area. Shortly beforehand, the bib draw for tomorrow's Slalom will take place (18:00 hrs). The final event of the 80th Hahnenkamm Races will start tomorrow at 10:30 hrs (1st run).
Photo © SPIESS / KLECHA / K.S.C. KST / AS-PHOTOGRAPHY
Image Gallery
---
Related Posts
---