Downhill winner Matthias Mayer: twofold triumph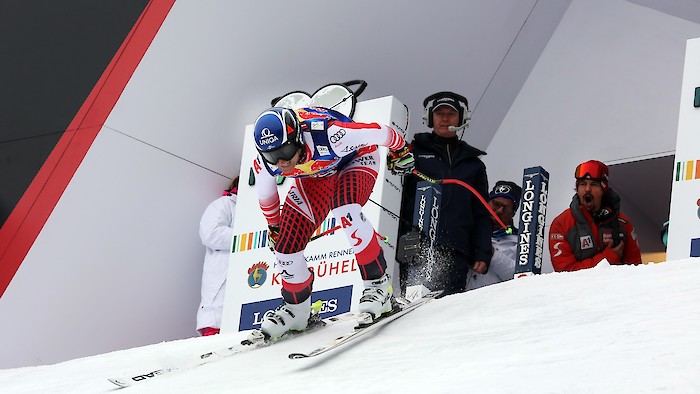 25.01.2020
After yesterday's second place in the Super-G, Matthias Mayer is wearing a huge grin all over again. The 29-year-old delivered a nigh-on faultless run and secured Downhill victory at the 80th Hahnenkamm Races. Mayer has already celebrated an impressive five podium finishes in Kitzbühel. All, however, in the Super-G discipline. He even found himself on the very top of the Super-G winner's podium in 2017. Now he has finally added the Downhill title to his collection, on the jubilee edition of the Hahnenkamm Races.
"There is simply nothing more awesome than to weave down the racecourse alongside thousands of spectators and be in the lead again. It is unbelievable and I'm just so happy."
"Mothl" has proven several times that he has what it takes to win. The man from Austrian Carinthia has already claimed 25 podium placements, 8 of which were outright wins. He is currently hot on the heels of the overall World Cup leader, Norwegian Aleksander Aamodt Kilde.
In 2014 the now 29-year-old "Mothl" surprisingly won Downhill gold at the Olympic Games in Sochi. In 2018 he could even repeat this triumph in Pyeongchang - but this time in Super-G. This year, however, he can celebrate a resounding twofold triumph.
The son of Olympic medallist Helmut Mayer seems to be in top form right now. The likeable Carinthian has already won three races this season: Super-G in Lake Louis, Combined in Wengen and now the supreme Downhill discipline on the Streif.
Photo © AS-PHOTOGRAPHY, K.S.C. / FH
---
Related Posts
---