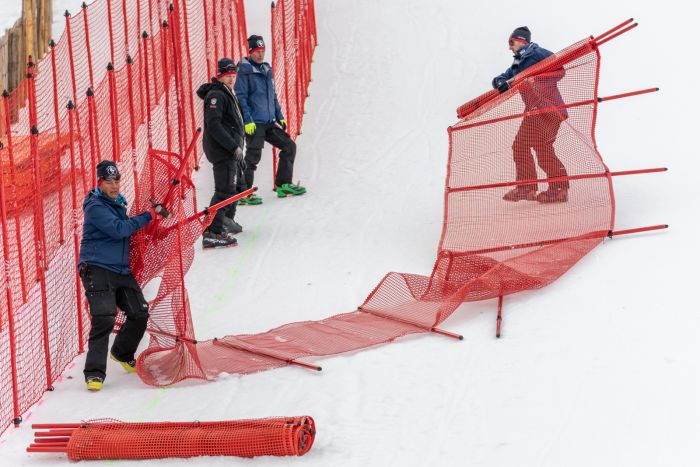 13.01.2023
Tom Voithofer and his 30-strong team in charge of safety at the Hahnenkamm Races. A responsible job that involves nets, fences and sliding tarpaulins.
Safety preparations along the over three-kilometre-long Streif were well advanced on Friday - one week before the first Downhill event: "We are already right down in the finish area. The finishing touches will follow on Saturday and Sunday, and from Monday we will be practically ready for the race," says Tom Voithofer, who is proud of his 30-strong team. 27 of whom take care of setting up, hooking in, assembling, fastening and connecting nets, fences, sliding tarpaulins and airfences, while the other three zoom up and down on skidoos, transporting material to the right places. "This was a bit more difficult than usual this year, because when there is less snow, the skidoos are unable to access all positions, and we have to transport a lot on skis or on foot equipped with crampons."
Around 15 kilometres of safety nets and fences are suspended or erected along the racecourse, including some 1700 metres of the high A-nets with sliding tarpaulins. This year there are 141 so called airfences: air-cushioned protection barriers. Tom Voithofer's safety team requires 10 to 15 days to install all the safety measures on the Streif. Preliminary work by the mountain team also deserves a mention: "They start with the first nets in autumn." Incidentally, de-rigging of the Streif begins on Saturday, directly after the end of the Downhill.
And what constitutes a successful Hahnenkamm race for Tom Voithofer? "For me, a race is successful when an athlete who has crashed into a fence can get up unscathed immediately afterwards and continue skiing. We all hope, of course, that no one crashes into the safety barriers - and that everyone crosses the finish line in the best of health."
Photo © K.S.C./alpinguin
---
Related Posts
---