Two landscape gardeners on the Steilhang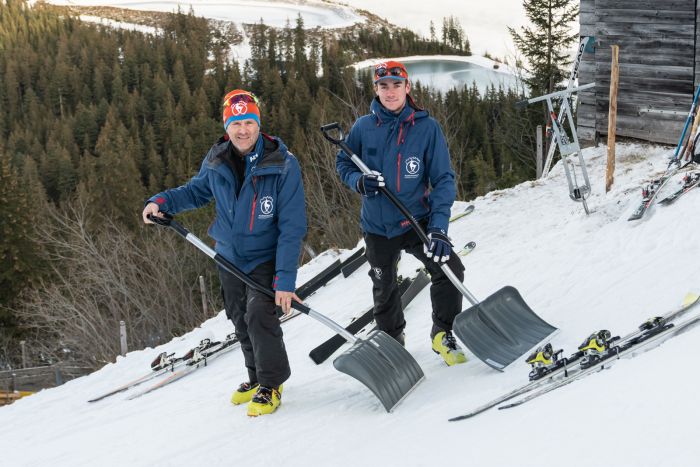 13.01.2023
Toni and Luca Real are not your everyday father and son team. The landscape gardeners from Liechtenstein work with great enthusiasm together with the piste team on the Steilhang section of the Streif. Toni, for the 13th time this year.
Year on year, Toni Real used to watch the Hahnenkamm Races either from home, comfortably ensconced on his couch, or from the sidelines of the finish area together with hordes of other fans. But he hasn't done that since 2010. Back then, the landscape gardener from Vaduz was standing among the thousands of spectators at Rasmusleitn and thought: "Why am I not actually on the other side of the fence?" His desire was intensified by Marco Büchel ending his career in the same year: "If no Liechtensteiner skis down the Streif anymore, at least a Liechtensteiner should make sure that the slope is perfectly groomed." A short time later, Toni Real applied and was accepted for a position on the piste team. Since 2011, he has spent the two weeks leading up to the races in Kitzbühel every year and helps with preparations on the Steilhang section.
In the meantime, two Reals are now working on the Steilhang, because son Luca joined the team in 2022. Despite the fact that working in the steep terrain is not for the faint-hearted, the 23-year-old finds it "always fun and the atmosphere with the piste team very pleasant."  Luca himself skied in Liechtenstein's ski squad until the age of 16. Fortunately, he never made it to the Hahnenkamm Races, because Papa Toni might then have never groomed or shovelled snow on the Steilhang: "If Luca had made it to the World Cup, I would not have been able to watch him race down the course to see if he crossed the finish line safely." Today Luca also works as a landscape gardener in the family business in Vaduz.
The Reals are not only rooting for Liechtenstein's Marco Pfiffner and Nico Gauer in the Downhill: "Here in Kitzbühel, it also brings us great pleasure when the Austrian team is successful. And of course the Swiss are also close to our hearts," says Toni Real, who is called "Shovel-Toni" at home. Not because of his work as a gardener, however, but because of his love of shovelling the Steilhang on the Streif.
Photo © K.S.C./alpinguin
---
Related Posts
---