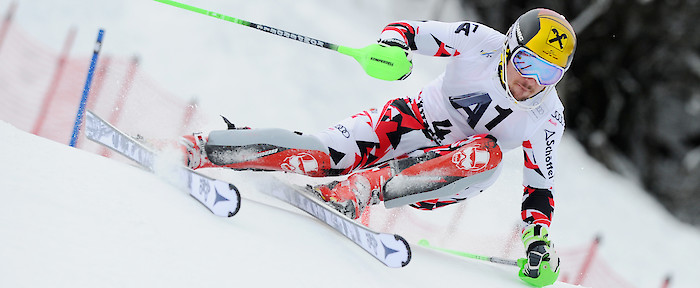 28.10.2016
Is THE word that best describes the Ganslernhang. "It is the most challenging Slalom in the world", said Neureuther after his first victory at Kitzbühel.
"A thrilling test of nerve every year", is Slalom Slope Chief, Stefan Lindner's description. He and his team constantly try to come up with new improvements.  It should be a fabulous experience for the athletes as a well as spectators. Discussion took place as early as spring, with a further meeting three weeks ago and more to follow. "We want to create the very best conditions, as well as provide the fans with a unique experience". The natural arena at the Ganslern is an exceptionally well-suited venue, as there is no other slope where you can see the entire course. Just one "attack" leads the slalom artists to victory.
There will be an open course inspection for the first time in 2017, two days before the Slalom. "The slalom specialists will meet on the Ganslernhang Slope on Super-G Friday after the race, between 14:45 and 15:30 hrs. And in customary style, the Kitzbühel Ski Club, Organizers of the Hahnenkamm Races, have arranged some great entertainment. "We want the fans to be able to see the racers up close two days before the Hahnenkamm Slalom!" An entertaining moderator and great music will accompany the warm-up with the slalom artists on the Ganslernhang!
Programme Friday, 20th January
11:30 hrs
- Hahnenkamm Super-G
14:45 – 15:30 hrs
- warm up Slalom
---