Great Order of the Tyrolean Eagle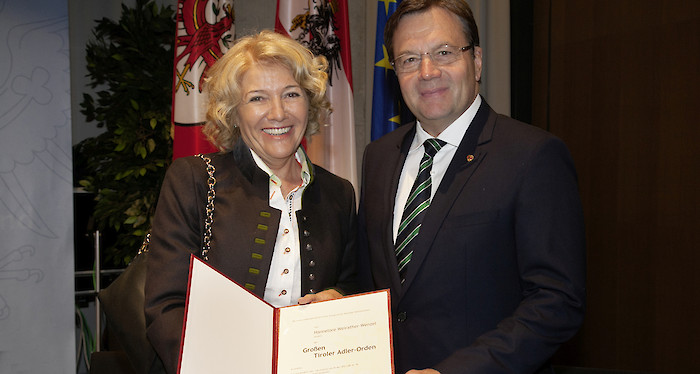 27.10.2016
"An award in appreciation of her services to our country of Tyrol!" As emphasised by State Governor, Günther Plattner, during the bestowal of the Order of the Tyrolean Eagle at the Landhaus on 25th October.
Kitzbühel Ski Club, Organizers of the Hahnenkamm Races, are particularly delighted that Mrs Frau Hanni Weirather-Wenzel received this great accolade. She has been awarded the Order of the Tyrolean Eagle for her outstanding contribution to sports and tourism in Tyrol. Together with her husband,
Harti,
she managed the annual major sporting event, the Hahnenkamm Races, for the 20th time this year. Hanni Wenzel won a bronze medal at the Olympic Winter Games in Innsbruck, Liechtenstein's very first Olympic medal. Further medals and victories followed, making her one of the most successful ski racers of all time. Together with her husband, Harti Weirather, she founded the WWP (Weirather-Wenzel & Partner AG) in 1987.
This sports marketing agency now employs 90 permanent employees and has offices in Madrid, Barcelona, Milan and Abu Dhabi.
Our warm congratulations go to Hanni Weirather-Wenzel
Hanni Weirather-Wenzel Medals Table
Olympic Winter Games:
2 x Gold 1 x Silver 1 x Bronze
Ski World Championships
4 x Gold 3 x Silver 2 x Bronze
---