Downhill on Friday confirmed in Team Captains Meeting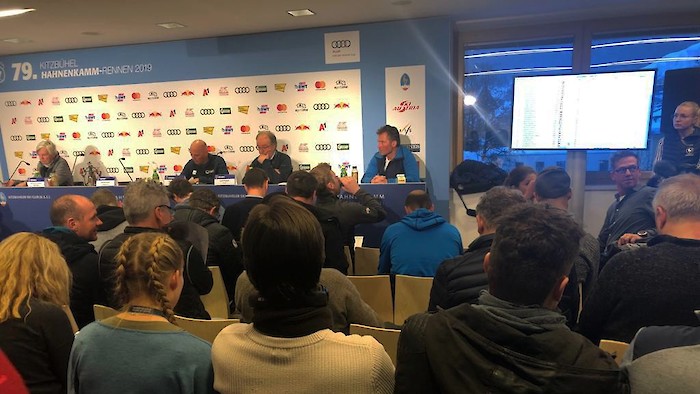 24.01.2019
There was a lot of commotion at today's Team Captains Meeting, even though it had already been announced that certain programme adjustments were necessary for the 79th Hahnenkamm Races. At the meeting, KSC President Michael Huber confirmed said announcement:
"Due to the forecasted weather, we simply had to make these changes."
The programme will now be as follows: The Streif Downhill will take place tomorrow (Friday) at 11:30 hrs. On Saturday, the Slalom is scheduled to start at 9:30 hrs, followed by the Super-G on Sunday (from 13:30 hrs) to round off the event.
"Bringing forward the Downhill is the only way this race will be possible this year"
...explained Huber in the presence of the Team Captains. "We're expecting up to 30 cm of snow by Saturday morning. That would have made it much more difficult to put on a successful Downhill", said Huber, justifying the programme changes. Following these announcements, tomorrow's Downhill was confirmed by those responsible and the bib draw took place.
Chief of Race Mario Mittermayer-Weinhandl concluded the meeting by directing some words at the Team Captains: "Thank you to all the coaches for your understanding with regards to this situation and our decision. We wish you all a successful and fair race."
Photo © K.S.C.
---
Related Posts
---