First-hand and free: Experience training in the stadium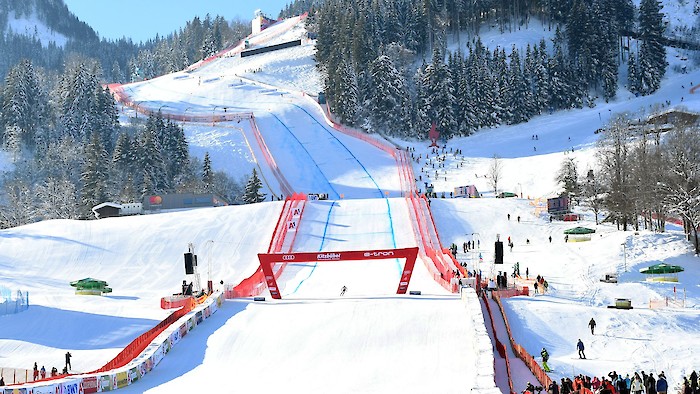 22.01.2020
Hahnenkamm Week could not have got off to a better start: Weather conditions are ideal, the Streif is nothing less than resplendent and all preparations are going according to plan. Today, the athletes will be able to view the outstanding racecourse conditions for themselves. Their first Downhill training run has been scheduled for 11:30 hrs.
Ski fans will also get their fill: They can experience the training run first-hand along the course – admission is free. But wait, there's more: Fans can also enter the Stadium in the finish area again free of charge, to get a perfect view of the training.
Before the Downhill aces take centre stage, the next generation of ski racers will prove their talent at year's Longines Future Hahnenkamm Champions race.
Cheer on the young ski stars in their first run on the legendary Ganslern slope (from 10:00 hrs) to get in the mood for the Downhill training, after which the all decisive second run of the Longines Future Hahnenkamm Champions will take place (from 13:00 hrs).
Sunshine, seating and a superb performance: Wednesday's Downhill training run is guaranteed to be a spectacle for both racers AND spectators.
1st Downhill training run of the 80th Hahnenkamm Races
Wednesday, 22nd January 2020
Start: 11:30 hrs
Free entry
Free seating in the stadium
---
Related Posts
---