Hahnenkamm - Legends of the Year 2019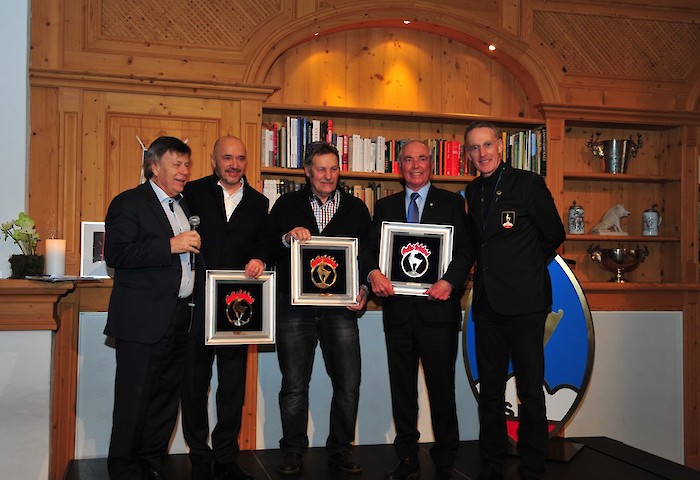 27.01.2019
On the occasion of the 79th Hahnenkamm Races, three legends were honoured again this year for their great historic achievements. Personalities from the worlds of sport and politics gathered at the Rasmushof for this special event, including members of the FIS board, the government and ÖSV (Austrian Ski Federation). The KSC was of course also present to celebrate with the legends.
KSC President, Michael Huber, welcomed all attending guests to this special evening, which was organized by KSC in conjunction with the Austrian Ski Association. He expressed his gratitude to the recently deceased KSC official, Hannes Huter, who always looked after the guests of honour at the Hahnenkamm Races. Michael Huber was therefore more than delighted when Marlene Huter, Hannes' daughter, agreed immediately to take over her father's former duties. Michael Huber closed his speech with words of thanks to all KSC officials, without whom the Hahnenkamm Races would not be possible.
The three legends were presented with the famous Hahnenkamm logo, designed by the famous artist Alfons Walde.
The first honour went to Christian Neureuther, who won the Slalom on the Ganslern Slope 40 years ago. Neureuther competed 12 times in Kitzbühel. Visibly pleased, he accepted the award with the words, "I have a great affinity with Kitzbühel. We drove through Kitzbühel when I was a child and I was a huge Toni Sailer fan. That's the reason why I always wore a white cap when competing. What can I say about Kitzbühel and the Hahnenkamm Races? I'm just glad they exist."
Sepp Ferstl was the second of the trio to presented with the "Legend of the Year" award. He won the Downhill on the Streif in 1978 and 1979. Sepp Ferstl was also delighted with his accolade and said: "Even after ending my active racing career, I have never missed a single race in Kitzbühel and am always made very welcome. KSC is the FC Bayern Munich of winter sport."
Karl Schranz was the third legend to be honoured during this special evening. Karl Schranz competed 16 times in Kitzbühel and triumphed no less than 6 times. He made the podium 12 times. His race time was stopped mistakenly in 1969 and it was unclear whether he had won or not. His time was finally corrected, to which he said, "I don't care about winning a prize. I just want my time to be right."
It was a relaxed and entertaining evening with great food and lots of good conversation. The perfect conclusion to a successful ski day.
Photo © K.S.C.
---