Matthias Mayer returns to the Streif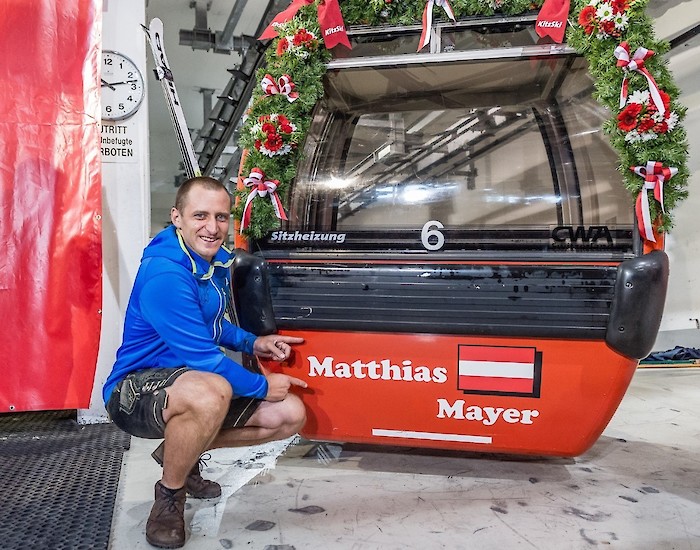 29.06.2020
He celebrated his 30th birthday and married fiancée Claudia only a few weeks ago. Today he returned to the Hahnenkamm with family, friends and coaches. The setting of his great triumph in January 2020.
Winners of the Hahnenkamm Races receive their "very own" gondola every year. A wonderful ceremony that no athlete wants to miss out on. Including Matthias Mayer. He already received a gondola in 2017, after winning the Super-G. This year he was presented with his Downhill crown – after triumphing ahead of Vincent Kriechmayr and Beat Feuz, who tied in second place, crossing the finish line a mere 22 hundredths of a second later.
Mayer demonstrated his formidable form only a day earlier in the Super-G. He topped the leader board together with Aleksander Aamodt Kilde, until start number 19 commenced his winning run and Norwegian Kjetil Jansrud took the title.
| | | |
| --- | --- | --- |
| year | rank | Dis |
| 2020 | 1 | Downhill |
| 2020 | 2 | Super-G |
| 2019 | 9 | Downhill |
| 2019 | 5 | Super-G |
| 2018 | 34 | Downhill |
| 2018 | 3 | Super-G |
| 2017 | 8 | Downhill |
| 2017 | 1 | Super-G |
| 2015 | 2 | Super-G |
| 2015 | 10 | Downhill |
| 2014 | 11 | Downhill |
| 2014 | 14 | Combined |
| 2014 | 13 | Super-G |
| 2013 | 16 | Downhill |
| 2013 | 7 | Combined |
| 2012 | 40 | Downhill |
| 2005 | 1 | JUNIOR RACE, Team AUT |
---
Related Posts
---