Much manual labour on the Streif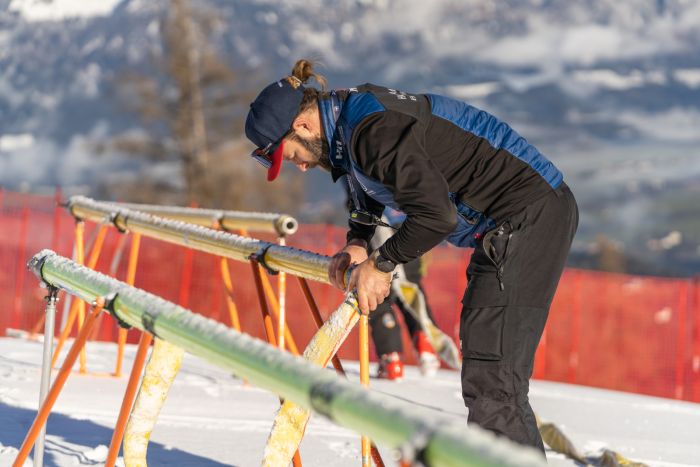 14.01.2023
On Saturday, three days before the first training session, the Streif is in excellent condition and nigh-on race ready.
While thick fog clouds clung stubbornly to the valley on Saturday morning, the Hahnenkamm appeared in magnificent condition at the Starthaus at 1665 metres above sea level: with five centimetres of fresh snow, low temperatures and bright sunshine. The Streif, meanwhile, is in excellent form, with an already compact snow cover. Now heavy machinery has completed their work on the route, it's time for the finishing touches to be given by hand. Fresh snow has been swished to the sidelines by the slip crew, while the piste team is working with (light) snow blowers and shovels below the Mausefalle section.
While one water spray bar was still being assembled under the Seidlalm jump, another was already in use in the Lärchenschuss section. These inject water into the snow cover with cone-shaped nozzles at intervals of 20 to 30 centimetres, where it bonds to form a continuous base. Treatment with the spray bar is intended to make the track hard and resistant. A process that continued into the afternoon hours and up to the Hausbergkante.
Progress in the finish area is also clearly evident, where the jump was groomed and airfences inflated and installed on Saturday morning. The first seats have also been installed in the grandstands, which will be filled by cheering spectators next Tuesday, when the first Downhill training run starts at 11.30 hrs. Admission to watch the training runs is free. Ski fans can then enjoy a day off on Wednesday, as work continues on the Streif. The second training session is scheduled for Thursday at 11.30 hrs. The first Downhill event commences on Friday at 11.30 hrs, the second on Saturday at the same time. The Slalom follows on Sunday.
Tickets are only available in advance and there are no on-site sales. Even on race days, tickets can only be purchased online – so long as that particular day is not yet sold out.

Photo © K.S.C./alpinguin
---
Related Posts
---