Official go-ahead for the 83rd Hahnenkamm Races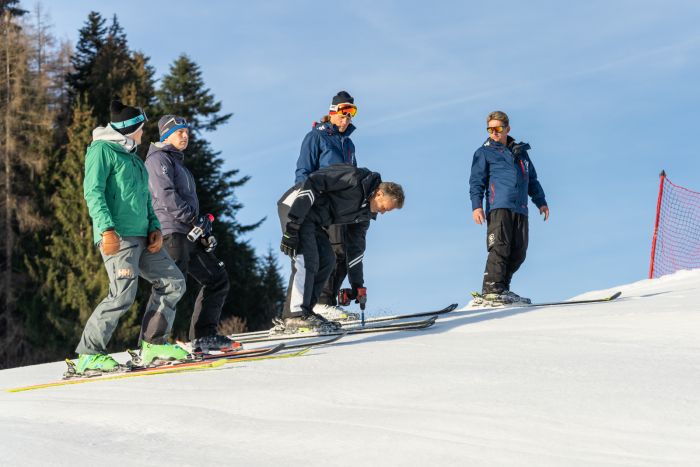 06.01.2023
FIS Chief of Race, Hannes Trinkl, reports on Epiphany Day that snow conditions on the Streif and Ganslern slopes are very good, thus giving the official go-ahead for the two Downhill races on 20th and 21st January and Slalom on 22nd January.
Epiphany was a festive day in the truest sense of the word for Organizers of the 83rd Hahnenkamm Races: despite milder temperatures over the last few days, FIS gave the official go-ahead for the Downhill and Slalom races. "The snow conditions are very, very good from the start to finish line. So long as nothing unforeseen happens - there is nothing to prevent the races from taking place. In fact, according to the weather forecast we can even look forward to some more snow," said a delighted FIS Race Director Hannes Trinkl at the press conference at Red Bull Zielhaus after the successful snow checks. The Upper Austrian thanked the entire Organizing Committee and KitzSki:  "Big thanks go to Bergbahn Kitzbühel, who wisely produced a lot of snow in mid-December." Anton Bodner, CEO of Bergbahn Kitzbühel, was also relieved: "I'm delighted that the efforts of our staff are now reaping such rewards."
Herbert Hauser, Streif slope manager, provided a little review and perspective: "Thanks to all the snowmaking operations over a mere few days in mid-December, excellent conditions have been created. Before the thaw, the Streif was nigh-on race ready and is still in a condition that ensures good conditions for forthcoming activities and fair races." The Ganslern slope was also ready for racing a week before Christmas and still is, thanks to the good base layer: "A few passages are still not perfect, of course, but we will get back to work on the slope from Monday," said Stefan Lindner, slope manager on the Ganslern. He also emphasised the advantage of having "not such enormous" amounts of snow: "The characteristics of the Ganslern, including the many transitions, will be very natural this year."
Michael Huber, Head of the Hahnenkamm-Race Organizing Committee. was also satisfied: "The optimism with which we are sitting here today may surprise many and is not something that can be taken for granted! I thank everyone for their efforts thus far."
There are still plenty of tickets available for all race days - exclusively on sale in our Webshop. Admission is free to watch the training runs and Juniors Race (18th January).
Photo © K.S.C./alpinguin
---
Related Posts
---