Course safety team running at full speed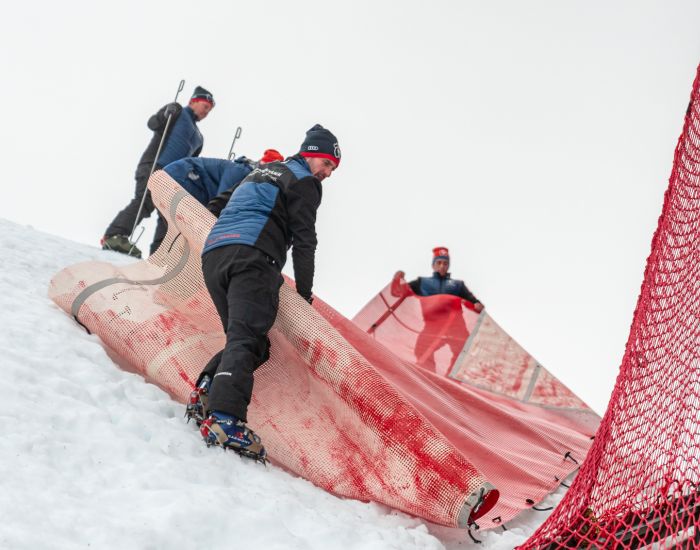 03.01.2023
Tom Voithofer's team needs around 13 days to secure the Streif racecourse. On Tuesday, they were busy working below the Mausefalle and Steilhang sections.
The team surrounding Tom Voithofer has been working at "full throttle" on the Streif racecourse since the turn of the year, shovelling, drilling and tying knots wherever necessary. Experience shows that it takes 12 to 13 days to install all the safety nets, fences, air and impact protection mats from the start to the finish line: "We are now working every day - regardless of the weather," says Tom Voithofer, Head of Safety at the Hahnenkamm Races. Together with his 30-strong team (27 on the slopes, three on skidoos), he was busy on Tuesday working on the Mausefalle and Steilhang sections.
"The safety nets are currently being prepared for everything to be anchored underground – rigged primarily with snow plates," explains Tom Voithofer at the bottom of the Mausefalle. To accomplish this, a hole is drilled in the snow and the snow plate is sunk into it and firmly buried. The only thing sticking out of the snow is the bottom cord of the snow plate, which is then knotted to the A-net. An additional sliding tarpaulin is placed on top of the A-net.
The most arduous task for Tom Voithofer and his safety team takes place only a few metres further down the Steilhang: "There is a picket fence here, on which we mount impact protection and sliding tarpaulin. Because of the steep terrain, this is one of the most laborious tasks along the entire course." In total, some 1330 linear metres of A-nets, 13,140 linear metres of B-nets and 13,500 linear metres of C-fences will be installed by Race Week, so there is still plenty more shovelling, drilling and tying knots to contend with.
Photo © K.S.C./alpinguin
---
Related Posts
---