TEN YEARS AGO, DIDIER CUCHE BADE FAREWELL TO THE STREIF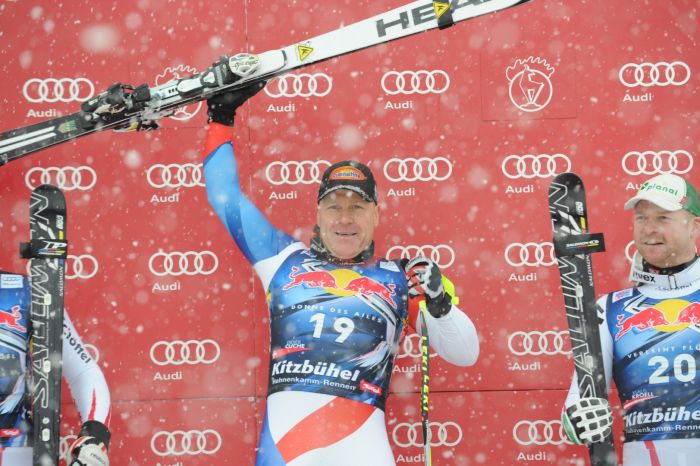 17.01.2022
In the long history of the Streif, only one person has accomplished five Downhill victories: Didier Cuche. Ten years ago, on 19 January 2012, he announced the end of his career in Kitzbühel.  He triumphed for a final time two days later.
Didier Cuche and the Streif. It was a very special relationship. No one has won the Downhill more often than him (five times) and only Franz Klammer - like the Swiss athlete - won three times consecutively. Another remarkable aspect is the long period between Cuche's first victory in Kitzbühel in 1998 and his last in 2012. "I would be lying if I said that Kitzbühel is not very special for me. After all, with all the sporting history and successes, this place has changed my life", says the now 47-year-old. It was no coincidence that Didier Cuche announced the end of his career on the 19th January 2012 during Hahnenkamm Week in Kitzbühel. The fact that he actually won again two days later could almost be described as cheesy! But the powerhouse was also in top form in his last World Cup season - when he accomplished four of his 21 victories in total.
Didier Cuche explains his five successes on the Streif as follows: "I think this slope is so difficult, I always had to dig deep to get the best out of myself.  I've always had my back against the wall, so to speak, and needed to get everything right at the right moment." Does that mean there are racecourses where 95 per cent will suffice? "Not that either, because 100 per cent is very close to 101 and 101 per cent is already too much. On the Streif, the fine tuning has to be somewhere between 90 and 100 per cent and adjusted to your own ability and what the hill allows. You can then move within this percentage range without exceeding the risk limit. Because as soon as you make a mistake, the race is over, or you fall - and that hurts. I've been lucky never to have had a tumble on the Streif."
Today, Didier Cuche - according to his own definition – is a sports and brand ambassador and involved in charity projects. He has two children - Noé and Amélie - with his partner Manuela.
---
Related Posts
---