The Fédération Française de Ski Team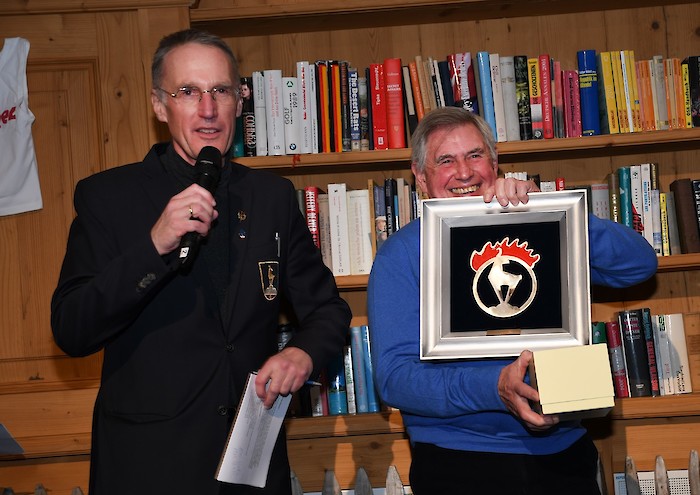 31.01.2020
The great Frenchman – Russel "Legend of the Year"
In 2020, the honorary committee elected Frenchman Patrick Russel as "Legend of the Year 2020". Russel, a likeable former ski racer who won the Hahnenkamm Slalom in 1969 and 1970, also won the Combined event in 1970.
Patrick Russel, born on 2nd December 1946, dominated the Ski World Cup scene in the Slalom and Giant Slalom disciplines during the late 1960s and early 1970s. In addition to two competitive World Cup victories in Slalom and Giant Slalom, the French ski icon also won two silver medals (Slalom & Combined) at the 1970 World Championships in Val Gardena. He won a total of 13 races and achieved a further 13 podium positions within a mere three seasons. After ending his career in 1972, Russel became brand ambassador and technical advisor for Les Arcs ski resort.
The Streif and Ganslern racecourses have always been fertile ground for the "Equipe tricolore." It all began with Jean Claude Killy, who secured no less than seven victories on the Streif and Ganslern, and therefore in the Combined. Adrien Duvillard was unstoppable in the Olympic year of 1960 and won everything there was to win at Hahnenkamm. After the Hahnenkamm Races, however, he was eliminated in both the Downhill and Slalom at the Olympic Games in Squaw Valley. He finished 10th in the Giant Slalom. His brother Henri won twice, Jean-Noel Augert four times. French team members triumphed an impressive 35 times at Hahnenkamm, the last being Clement Noel in 2019, who came third this year.
Hats off to the French Team - the Fédération Française de Ski
Patrick Russel's greatest successes
2 times World Champion runner-up in Slalom and Combined in Val Gardena 1970
A total of 13 individual World Cup wins (4 GSL, 9 SL)
World Cup Discipline 1970/1971 Giant Slalom
World Cup Discipline 1968/1969 and 1970/1971 Slalom
1st place Hahnenkamm Slalom 1969                                     2:00.37
1st place Hahnenkamm Combined 1970                               1:50.77
1st place Hahnenkamm Slalom 1970
2nd place Hahnenkamm Slalom 1971
All French conquests in Kitzbühel (total 35)
| | | | | | | | | |
| --- | --- | --- | --- | --- | --- | --- | --- | --- |
| 7 | Jean-Claude KILLY | 1965 SL | 1965 AC | 1966 SL | 1967 DH | 1967 SL | 1967 AC | 1968 AC |
| 4 | Jean-Noel AUGERT | 1971 SL | 1971 SLz | 1972 SL | 1973 SL |   |   |   |
| 3 | Adrien DUVILLARD | 1960 DH | 1960 SL | 1960 AC |   |   |   |   |
| 3 | Guy             PERILLAT | 1961 DH | 1961 AC | 1969 AC |   |   |   |   |
| 3 | Patrick          RUSSEL | 1969 SL | 1970 SL | 1970 AC |   |   |   |   |
| 3 | Luc         ALPHAND | 1995 DH | 1995 DHz | 1997 DHz |   |   |   |   |
| 3 | Alexis PINTURAULT | 2014 AC | 2015 AC | 2016 AC |   |   |   |   |
| 2 | Henri DUVILLARD | 1971 AC | 1972 AC |   |   |   |   |   |
| 2 | Jean-Baptiste GRANGE | 2008 SL | 2011 SL |   |   |   |   |   |
| 1 | Guy DE HUERTAS | 1953 GS |   |   |   |   |   |   |
| 1 | Patrice PELLAT-FINET | 1978 AC |   |   |   |   |   |   |
| 1 | Jean-Pierre VIDAL | 2006 SL |   |   |   |   |   |   |
| 1 | Julien LIZEROUX | 2009 SL |   |   |   |   |   |   |
| 1 | Clement NOEL | 2019 SL |   |   |   |   |   |   |
---
Related Posts
---