Austrian Armed Forces to support the Hahnenkamm Races again this year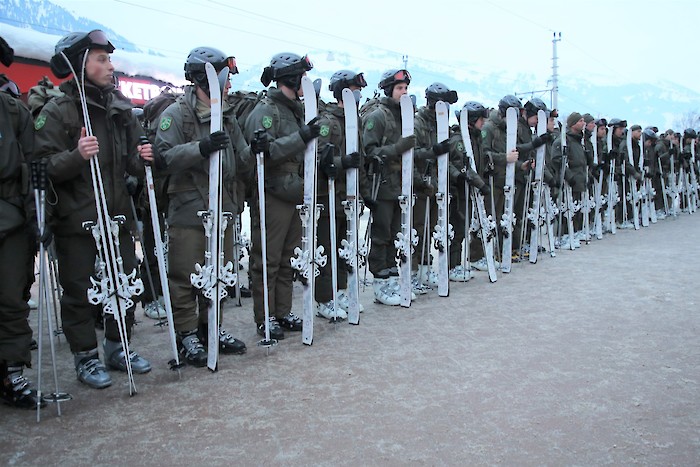 21.01.2019
The Austrian Army has arrived in time for Hahnenkamm Race week all over again and were warmly welcomed by KSC President, Michael Huber. "It is our mission to support the Hahnenkamm Races in the best possible way," explains Peter Lamprecht, Captain and Head of Operations with the Austrian Armed Forces. Over 80 men will be deployed at Hahnenkamm over the next few days.
"First of all, we will work on the Streif. Our team will be deployed there in two sectors, where one contact person from Kitzbühel Ski Club will oversee operations", says Lamprecht. The Slalom slope must be prepared at the same time for Sunday. Depending on the weather, the army will help clear snow, ice on the slope or erect fences.
"We are available to help the KSC at all times and ready for action during race days"
...explains Lamprecht. All soldiers are housed in the barracks in St. Johann in Tyrol during the Hahnenkamm Week. "We are very well looked after there. We travel from there in the morning and go back every day to sleep."
Lamprecht, who is in action at the Hahnenkamm for the first time this year, is already looking forward to his nine-day assignment in Kitzbühel: "The Hahnenkamm Races are a huge event and it is incredible to be part of them. My soldiers now have the chance to enjoy ringside seats and see the top level athletes at close hand." He also has huge respect for the legendary racecourse:
"Although we are a mountain troop and all know how to ski, you can only let the true pros ski down this slope"
...says Lamprecht with a  smile.
---