Hahnenkamm Races - a significant economic factor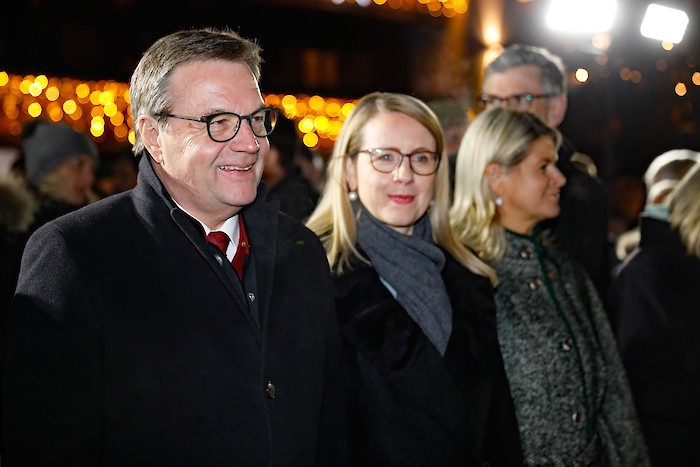 23.01.2020
Tyrolean reception in Kitzbühel as the traditional start of the Race Weekend. Tyrol's Provincial Governor, Günther Platter: "Feel the power of Tyrol as a strong sports, tourism and business destination."
And now the time has come for the 80th Hahnenkamm Races. Previous Hahnenkamm Races have consolidated the reputation of the famous racecourse in the heart of the Alps. "Those who triumph on the Streif and Ganslernhang slopes are on a par with Olympic champions in terms of sporting achievement - and quite rightly so. Nowhere else will you find similarly spectacular races with such an atmosphere, nowhere else are more memorable stories written. And this has been the case for eight decades," emphasised LH Günther Platter on the occasion of the Tyrolean Welcome Reception in Kitzbühel. Distinguished guests from the worlds of sport, society and politics accepted the Governor's invitation, who, under the motto "Feel the power of Tyrol", invited guests to the traditional start of the Race Weekend in "Chamois City".
"What you do in Kitzbühel every year for the Hahnenkamm Weekend is remarkable," said the Governor, in praise of the Organizing Committee's efforts. Year after year, a sporting event is staged which - apart from the Winter Olympics and the World Ski Championships – can only be described as the biggest ski event in the world.
"When I come to Kitzbühel, I feel the power of Tyrol as a strong sports country, as a strong tourist region and as a strong business destination"
, said Platter happily. The province manages to combine modernity and tradition in an incomparable way. "We offer an authentic homeland, genuine hospitality and experiences of nature that are second to none. At the same time we are a byword for progress and innovation", said Governor Platter, describing Tyrol's undoubted advantages. The power of Tyrol, the Governor continued, lies in the consistent high quality of its gastronomy, leisure and nature attractions. Things that require the necessary investments.
"Tourism is a strong economic engine. It makes a significant contribution to consolidating Tyrol as a sustainable economic and working location. It proved to be our rock in the turbulent waters of the economic crisis," said Platter. At the same time, however, one should not make the mistake of relying on just one economic factor.
"Tyrol has enjoyed falling unemployment figures and a flourishing economy for over three years. We take care of things - before problems arise,"
Platter clarified. With these measures, successful economic growth can be supported across all sectors. "Because in business - just like ski racing - fierce competition takes place, in which, of course, a whole host of nations are involved", pronounced Governor Platter, who also sees the Kitzbühel weekend as an important networking event: "Well-known personalities from the worlds of politics and business use this event not only to cheer on the athletes, but also as a social platform - and that can only be good for our country".
Photo © K.S.C.
---
Related Posts
---